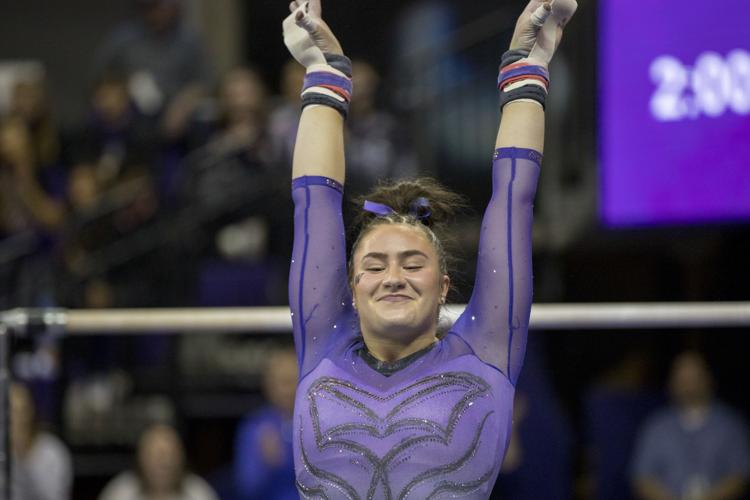 The No. 17 Washington gymnastics team earned its highest score of the season, a 196.975 in Davis, California, due in large part to stellar performances on the beam and bars. Junior Madison Copiak put up the best scores of the night with event titles on all three events she competes, vault, bars, and beam.
This meet was crucial in terms of securing a coveted evening slot at the Pac-12 Championships, which would give the Huskies some clout and a confidence boost. Washington is currently close behind Cal, and needed a season-best meet to have a shot at overtaking them. Now that the Dawgs have done so, it's down to how Cal performs Sunday.
The Huskies scored the best team bars score in 15 years, a 49.575. Every counted score was a 9.900 — except Copiak's. One judge gave the junior a perfect 10, and she scored a 9.975 to lead the team. There was a five way tie for third place, and Washington's remaining four counted scores were all part of that.
On beam, senior Malory Rose lead the way for Washington. She bounced back from a fall on senior night for a career-best 9.925. After a rocky season competing with a torn meniscus, Rose finally seems to have found solid ground on the beam, where she specializes. Copiak was close behind her with a matching score, and they shared the beam title.
Freshman Meaghan Ruttan made her college gymnastics debut after competing in exhibition twice last weekend.
The Huskies continued with only five vault competitors, and tenuous position that has regardless worked out for them. Vault scores for the past few weeks have been in the same just above 49.000 range, and Copiak's 9.875 lead that. Sophomore Geneva Thompson, who has been Washington's vault ace this season, scored a 9.825 for third place.  
On floor, Kristyn Hoffa continued flying high with a 9.900 for a second-place tie with Illinois gymnast Kylie Noonan. Junior Michaela Nelson, newly returned from injury, improved on her score from last week by a tenth of a point, and junior Maya Washington added a 9.875 to the team score of 49.050.
Reach Social Media Editor Hailey Robinson at sports@dailyuw.com. Twitter: @haileyarobin