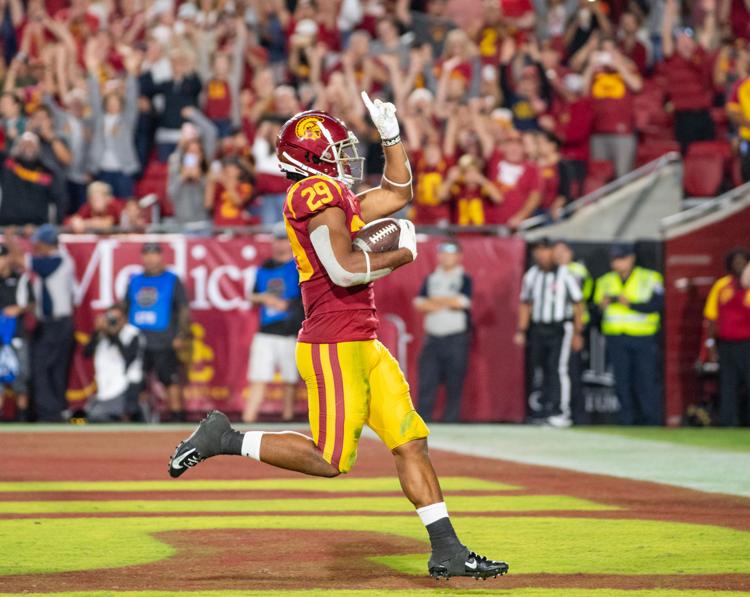 Before the No. 17 Washington football team takes on USC, we had the chance to ask some Mike Goody and Stuart Carson — who cover the Trojans for The Daily Trojan — some questions. Here's what they had to say:
With Kaden Slovis still concussion protocol, it looks like Matt Fink is set to start, right? How much does that change the USC offense, and what does the quarterback situation look like behind him?
Since last week was Fink's first game action in the Air Raid offense under new offensive coordinator Graham Harrell, he struggled to spread the ball around as efficiently as Slovis. That said, he could still continually count on his top target Michael Pittman Jr., who ended the game with ten receptions for 232 yards and a touchdown - the fifth most receiving yards in a game in USC history. Fink looked poised outside of one errant interception, and he was unafraid to take shots downfield and allow his receivers to make plays. When you have an offense as talented as the Trojans' that is predicated on trusting the quarterback and letting him call audibles, it says a lot about the coaching staff's trust in Fink to let him throw the ball 30 times against a very stingy Utes defense. 
How much do you think the win last week over Utah cooled Clay Helton's seat down?
Clay Helton is still on the hot seat and I don't think much has changed. Despite the win, USC exhibited a lot of errors that have come to be trademarks of Helton's tenure. Matt Fink had a great game to save his job for now, but repeating that performance week after week is unsustainable. 
The USC defense gave up nearly 250 yards on the ground to Utah... and still won. Is the run defense a concern at all in the long run, or do you think that was a one-week thing?
Utah's offensive line has been a strong point of the team so far — they've run the ball effectively all season with over 230 rushing yards per game. USC will catch a break this week, as the Huskies' starting running back Salvon Ahmed won't be playing due to a leg injury. The Trojans know that stopping the run needs to be a priority, as their inability to do so lost them the game at BYU, and it could continue to cost them down the stretch if they cannot adjust. The safeties have done a great job of getting to the outside, so it's on the linebackers to protect the edge and not get tunnel vision. The run defense and issues with stopping scrambling quarterbacks have been matters of discipline, not of talent. 
What are one or two things USC absolutely has to do to pull the upset on Saturday?
Considering the outcome the last time USC came up to Seattle, to call it an upset is discounting how USC has played in big-time games. The Trojans absolutely need to take better angles to the football. Poor tackling has plagued them all year and has caused them to give up 64 plays of 10 yards or more this season, good for tenth in the Pac-12. In the second quarter against Utah, the Trojans had the Utes offense backed up to their own 5-yard line on second-and-25. They proceeded to give up a 30 yard run to the outside, missing three tackles along the way. They had all the momentum and put the offense in a very tough spot, but due to bad tackling and a huge run, Utah was able to kick a field goal on that drive as opposed to punting from deep in its own territory. 
Do you have a prediction?
With a week of practice under his belt as the starter, Matt Fink is going to lead his squad to a 24-20 victory against the Huskies, although he may struggle at times throwing the ball against Washington's talented secondary. Vavae Malepeai, Stephen Carr and Markese Stepp will combine for 150 rushing yards, bouncing back from their poor performance against a staunch Utah defensive line which has given up only 52 yards per game — compared to almost 120 for the Huskies. Luckily for the Trojan defense, they will be going up against the least mobile quarterback they've faced this season in Jacob Eason, though he does have the best arm. Without much threat of the scramble, the defensive backs won't have to cover for as long as they've been forced to early on, and the dominant USC defensive line will get home and finish tackles. 
Stay up-to-date on all things USC Athletics on Twitter at @DT_Sports.
Reach Managing Editor Josh Kirshenbaum at sports@dailyuw.com. Twitter: @J_Kirshenbaum