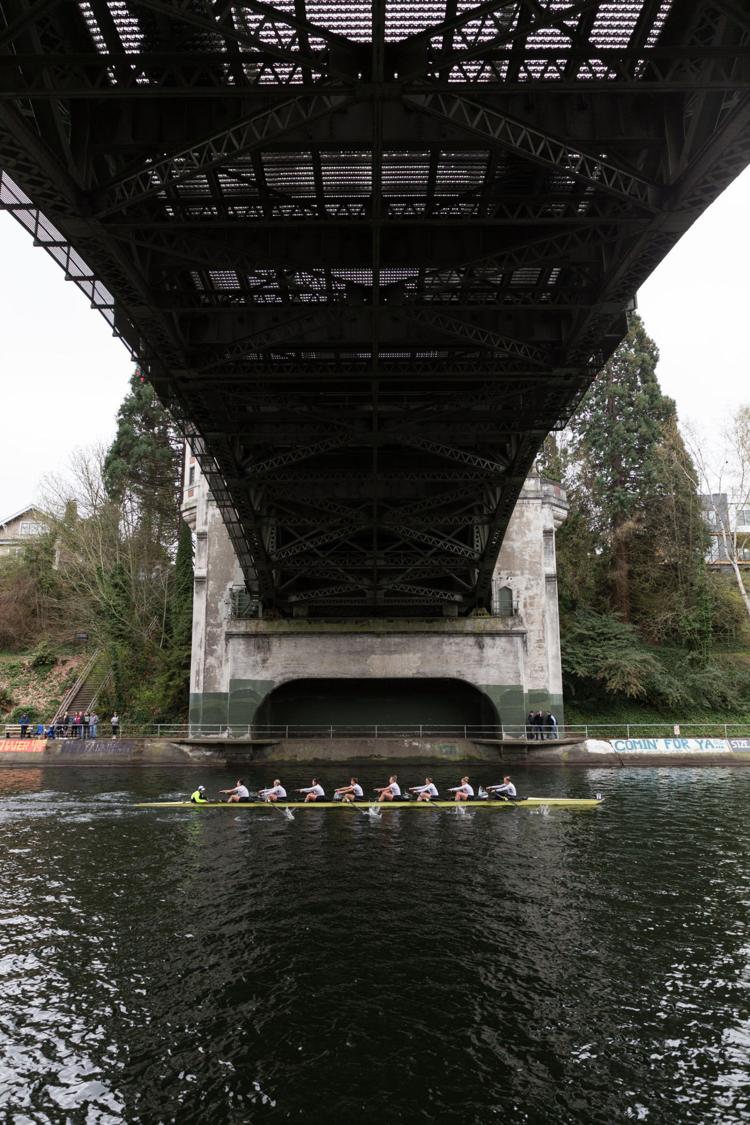 The Washington men's crew enjoyed perfect weather conditions Friday afternoon on the Montlake Cut, cruising to victories in all seven of its races against Oregon State and Stanford.
Originally scheduled for Saturday morning, a daunting weather forecast prompted the regatta to be moved up by a day. Friday races aren't common for the UW, and some rowers had just gotten out of class when it was time to prepare for racing.
"It just made everyone know that they have to be ready to go at any moment," head coach Michael Callahan said. "We're an outdoor sport, so there can be a thunderstorm, there can be a race delay, or you might have to move up a final. So we have to be ready to perform and execute at any moment."
The day started with the UW's first, second, third and fourth varsity 4+ boats competing against Oregon State's varsity 4+. The UW's boats finished in successive order, with the first varsity posting a time of 6:29.536. Oregon State rounded out the group, finishing with a time of 7:06.562.
Later came the UW's matchup with Stanford, beginning with the third varsity 8+. The Huskies won with a time of 5:45.859, besting the Stanford third varsity 8+ boat by more than 20 seconds (6:09.887).
The second varsity 8+ (5:35.788) experienced similar success, defeating Stanford (6:00.672) by an even wider margin. The first varsity 8+ race was slightly more competitive, but still saw the Huskies (5:36.161) finish rather comfortably ahead of Stanford (5:43.323).
After a break of about 45 minutes, Washington geared up for another slate of races against Oregon State.
"It was quite tough to sort of regroup and go back out with the same intensity, and it was [Oregon State's] first race," junior first varsity 8+ rower Ben Davison said.
Nonetheless, the UW first varsity 8+ (5:47.579) defeated Oregon State (6:03.550) in the day's final race to complete the sweep — Washington's second (5:53.379) and third varsity (5:50.080) boats both placed first in their respective races.
"We take every race very, very seriously," Davison said. "Every race we're trying to do a professional job and have our best race, and represent the W as best as possible."
The Huskies will take next weekend off before heading to Redwood Shores, Calif., for the Cal Dual. The UW split its four races with Cal last year, winning in the second and third varsity eights, while falling in the freshman and varsity eights.
"We'll take a training trip, get some more 2Ks in, testing the lineup out," said Davison. "Just another good week of training basically."
Reach contributing writer Jordan Duncan at sports@dailyuw.com. Twitter: @JordanDuncan43