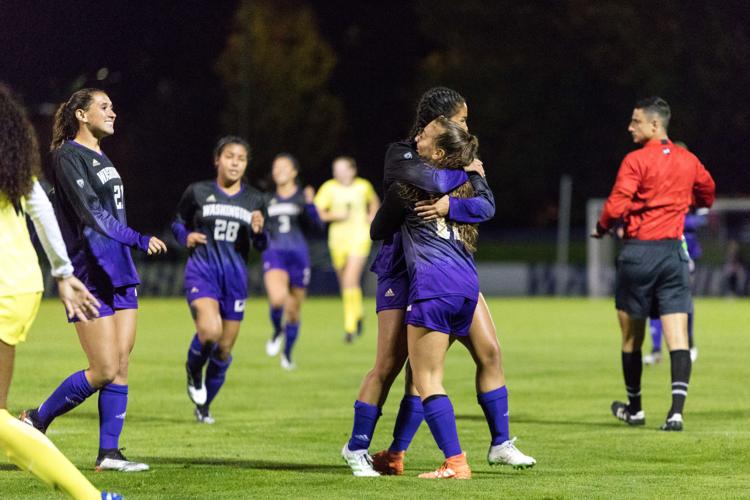 There's a lot to unpack about this game. It was physical, it was a rivalry game, and it was head coach Lesle Gallimore's final regular season game for the Washington women's soccer team.
At the end of the day, just one goal separated the two teams and the Huskies (11-6-2, 7-4 Pac-12) edged out the No. 24 Cougars (12-6-1, 5-5-1 Pac-12) for the first time in 16 years.
In the 82nd minute Makena Carr got tripped up in the box to send Summer Yates for a potential game-winning penalty kick. Yates fired the shot right down the middle to put the Huskies up 1-0, which would hold until the final horn.
"It means the world, just my team having my back and I know I just wanted to get that goal for them, my defense played amazing," Yates said. "Honestly that's my job to score goals, so if I can do one kick just for the entire team to win the game, that's amazing."
This game certainly felt like a rivalry game based on the physicality of it. There were three yellow cards and 26 fouls called between the two teams.
"All the past years I've played in the Apple Cup, it's been a huge physical battle, it gets really emotional too, so it's always a little bit chippy, so it's really nothing less than what I expected," defender Kaylene Pang said.
After dominating possession in the team's past two games, tonight's action was reversed for the Huskies. The Cougars came out swinging, breaking past the Husky backline with five shots in the first 17 minutes. They ended the first half with nine shots.
WSU ended the game with 17 shots and 13 corner kicks, but the UW defense held strong to only allow five shots on goal, four of which were saved by keeper Siena Ruelas.
"We just kind-of defended to the death, and made sure everyone was on it with their marks, and touched height, and just trying to get a piece of something on every ball," Pang said.
In her final regular season game as head coach, dozens of alumnae came out to support Gallimore on this big night.
"I know it's special because I know not everyone gets this feeling, and Amy [Griffin] and I have worked really, really hard to do things the right way, since we've been at Washington," Gallimore said. "I think the showing of the [alumna] tonight is the thing that probably warms my heart the most, and it's special."
Tonight's win put Washington into prime position to not only make the NCAA Tournament but potentially host a first round matchup as well. The team will know on Monday at 1:30 p.m. who and/or where it will play for the first round of the tournament.
"I think we can make a run for it, I think our team, we're all playing for each other, and we have so much heart in this team, and we all play with our heart, so yeah I think we can make a run for it," Yates said.
Reach reporter Josh Eddy at sports@dailyuw.com. Twitter: @JoshTreEddy
Like what you're reading? Support high-quality student journalism by donating here.