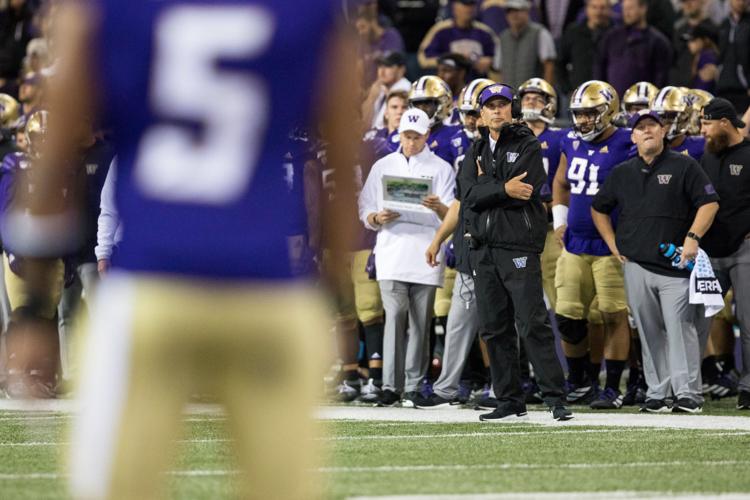 OK, so Washington fans won't be partying like it's 1991 in 2019. The Dawgs won't go undefeated for the second time since World War II after losing their Week 2 matchup to Cal.
On one hand, there are reasons to worry this early. On the other, well, it's this early.
"Every good team, championship team, whatever it is, you've got to face some adversity," senior wide receiver Andre Baccellia said after practice Wednesday. "Whether that's early in the season, middle of the season, or late in the season, it's bound to happen at some point. It's football. Just have to bounce back, learn from it, and execute."
Last week was the first time Washington has lost its Pac-12 opener since 2015 — coincidentally also against Cal, at home. That was the first year of the Jake Browning and Myles Gaskin era, and since, the Huskies have taken off as one of the premier programs on the West Coast.
But even in the three-year period of success the Huskies are taking into 2019, Washington has had its missteps at home and to unranked teams.
In 2017, Washington lost to Arizona State, scoring just one touchdown in a one-possession upset. In 2018, the Huskies lost to Cal, scoring just one touchdown in a one-possession upset. 
Last week, the UW, well, you know.
In both of those seasons, those bad upsets were not the only loss of the year. And in both of those years, the Huskies spent December getting ready for a New Year's 6 game.
Now, going 1-1 isn't exactly a sustainable clip for a season, but if the Dawgs can get themselves right these next two weeks going into the bulk of Pac-12 play, they could be primed for another deep run. All they have to do is practice to win one game at a time.
"Shoot, I've seen everyone trying to take the next step," Baccellia said. "Trying to take some of that ownership and accountability for the plays we left on the field and the mistakes we made. Just learn from them, come out, and work as hard as we can."
Of course, even if last week wasn't the time to start ringing the alarm bells, this week definitely could be. In 2016, Washington bounced back from its loss to USC with a 22-point win. In 2017, the Huskies followed their loss in Tempe with a 333-yard performance on the ground, and came back from a loss at Stanford with a gritty last-second win over Utah. Last year, losses to Auburn, Oregon, and Cal, all were followed by wins.
Washington has lost before. Washington has lost close games before. Washington has lost close games that it should have won and played badly in before. None of this is new. It only becomes something new if the Huskies can't figure out a way to bounce back against Hawai'i and do it again.
Then, maybe, fans can start looking for those panic buttons.
Reach Sports Editor Josh Kirshenbaum at sports@dailyuw.com. Twitter: @J_Kirshenbaum
Like what you're reading? Support high-quality student journalism by donating here.