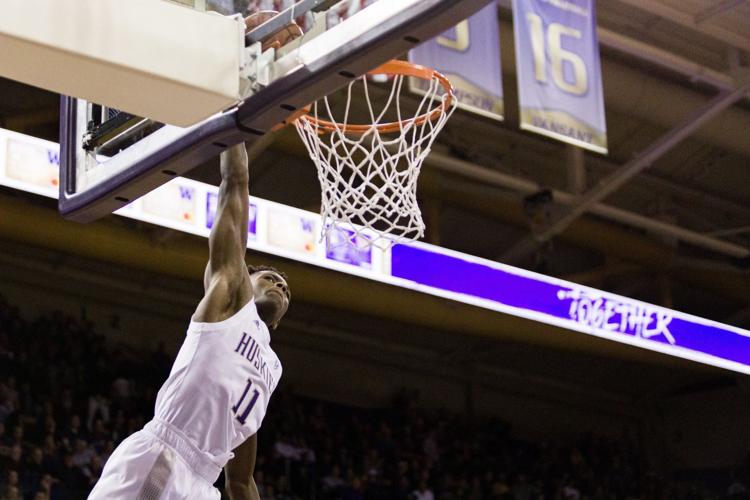 Just like in its come-from-behind win against Baylor, the No. 20 Washington men's basketball team played uninspired and careless in the first half of its 56-46 win over Mount St. Mary's.
Trailing for much of the opening frame against a smaller and less talented squad, the Huskies (2-0) meandered their way into a halftime tie, despite a shooting percentage under 40% and nine turnovers. 
"I didn't think we played hard in the first half," head coach Mike Hopkins said. "We had to play harder, we had to compete. I thought in the second half there was more of an uptick… it's just one of those games."
Tied at 21-21, UW had given up 10 points off its nine turnovers, and was being outrebounded 21-17. The second half, like it was against the Bears, was a different story. 
The Huskies flipped the script and ran out in transition with 15 points on 14 second-half turnovers by the Mountaineers (1-2). 
However, the game was still in doubt with under 10 minutes to go until Nahziah Carter got out in the open floor and threw down a mystifying dunk from the right wing to extend UW's lead to four and bring the once-deflated crowd to its feet. 
"Our defense created our offense," Carter said. "Once we got that rhythm, it just stayed with our offense, we just got to get that at the beginning of the game."
Washington finished the game on a 16-10 run from there, and outlasted the pestering Mountaineers. After giving up 10 points in transition in the first half, the Huskies had six turnovers the rest of the game, and allowed no points off those mistakes. 
In front of their home fans for the first time during the regular season, Hopkins said the Huskies needed every bit of energy the arena provided. 
"We needed energy," Hopkins said. "We have to do that at the beginning. We have to have that same sense of urgency right from the get-go. We're going to have a lot of ups and downs with this team, there are going to be a lot of learning experiences."
As for solving those first half woes, the Huskies recognized the youth and inexperience that surrounds the team. The starting lineup does include the star-studded freshman duo of Jaden McDaniels and Isaiah Stewart, but only one of them had a strong performance tonight. 
While Stewart powered the Dawgs with 16 points, five rebounds, and five blocks, McDaniels struggled with the ball in his hands. The forward finished with just five points on just 2-of-9 shooting and had five turnovers. After a lackluster shooting debut, Quade Green struggled again to find his shot, finishing with just four points. But games like this will happen in early November, and the older players on the team stressed the need to bring that energy when it's lacking. 
"We came out stagnant and slow," Carter said. "We weren't really cheering on our teammates, or getting fired up and getting the crowd into the game. That's a lot on us, being the vets on the team. We have to understand that and tell our young guys."
With all the talent in the world and an impressive defense already, Washington recognizes that it still has a long way to go if it wants to accomplish its goals. 
"We have a lot of talent on our team but we have to figure out how to play with each other better," Carter said. 
The Huskies return to action this Saturday in another neutral-site game against Tennessee at Scotiabank Arena in Toronto at 2 p.m. 
Reach Sports Editor Alec Dietz at sports@dailyuw.com. Twitter: @AlecDietz
Like what you're reading? Support high-quality student journalism by donating here.