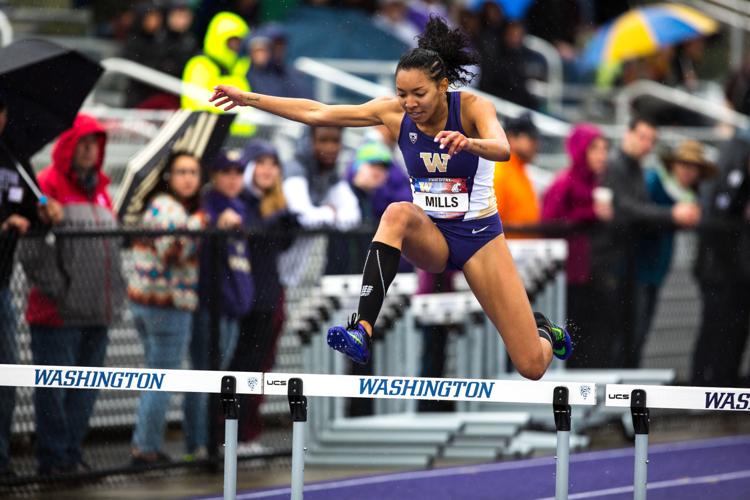 The Washington track team, led by a strong group of performers once again, had six more athletes punch their tickets to the final site of NCAA Championships in Austin, Texas at West Preliminaries, Friday.
Continuing her strong trend of improvement over the last couple of weeks, junior Darhian Mills qualified for the national semifinals in Austin in the 400-meter hurdles with a time of 57.02. That time would also be enough to break the outdoor school record set by Terra Barter in 1995 by just over a tenth of a second.
In the pole vault, senior Olivia Gruver is off to Texas as well after vaulting 14 feet, 2 inches in decidedly strong fashion. She is currently the two-time defending champion in the pole vault, and the outdoor national NCAA record holder set this year after her transfer from Kentucky.
Redshirt freshman Elijah Mason continued his breakout season with a toss of 188 feet, 5 inches in the discus to finish in fifth place overall, making him eligible for the NCAA Championships.
Mason's teammate Jonah Wilson sneaked into the Championships for the discus as well, placing 12th with a throw of 181 feet, 1 inch. He continues to barely squeak into the next rounds as he barely made NCAA Preliminaries by finishing 22nd in the division heading into the weekend.  
In the steeplechase, senior Emily Hamlin moved on to the final site for the second straight year after finishing 19th overall a season ago. On Friday, the senior distance runner finished third in her heat to automatically qualify with a time of 9:53.11.  
Lastly, senior Denham Patricelli finally busted through the prelim-barrier by earning his first NCAA Championship berth in the javelin. The senior threw for 239 feet and three inches to move on to the final site in Texas.
Saturday will conclude the NCAA preliminary round and will be comprised of relay and distance events. After only four athletes qualified for the NCAA Outdoor Championships in Eugene, Oregon a year ago, the Huskies currently have 10 athletes who have qualified to move on to the final site, and will look for more come Saturday.
Other Notes
- Freshman Alex Slenning barely missed the postseason for the 3000-meter steeplechase by finishing 13th with a 8:43.23, just two seconds away from qualification, but broke the UW freshman record.
- Freshman Cass Elliott was fifth in the first 400-meter hurdles quarterfinal heat with a time of 51.20 and will not move on.
- Senior Carly Lester and junior Morganne Hill made it to quarterfinals in the 400-meter hurdles, but couldn't advance along with Mills to the semifinals in Austin, running 58.47 and 58.69, respectively, to end their seasons.
- Senior Connor Morello finished 17th overall in the 800-meter quarterfinals in 1:49.68 to finish his last collegiate race.
- Junior Annika Dayton placed 22nd in the women's pole vault with a 13-4 and half inch leap. 
Reach reporter Daniel Li at sports@dailyuw.com. Twitter: @Daniel_Li7