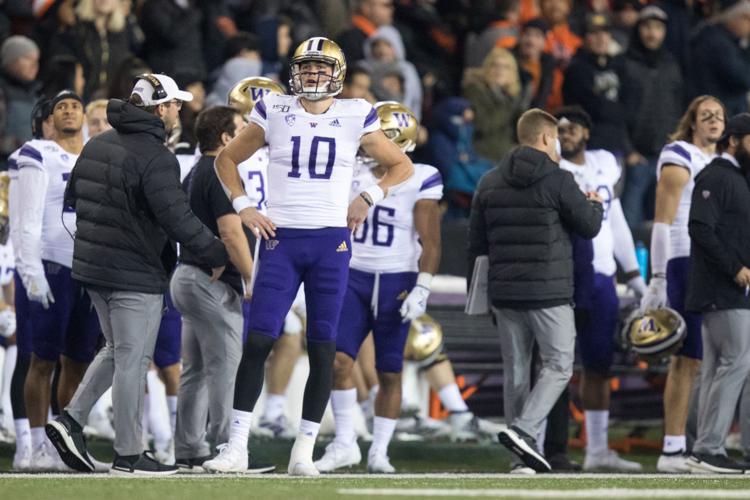 CORVALLIS, Ore. — After a nearly masterful performance against Oregon, in which the Washington football team was able to score 31 points on one of the Pac-12's best defenses, the UW offense has struggled. 
Against Utah, quarterback Jacob Eason was able to pace the Huskies (6-4, 3-4 Pac-12) to a lead in the first half, and helped the Washington offense flawlessly move down the field at times. Then there were the other times, where the offense got nothing on first down, or he threw a poorly-timed interception, or the run game failed to get going. 
That poor second half from Eason and the offense continued into Friday night's win over Oregon State, where the junior threw for under 200 yards and two interceptions against the nation's 100th-ranked passing defense. 
"They played a lot of man and they mixed it up," Eason said. "They brought some pressures here and there. It was stuff we'd seen on film all week and I forced some balls here and there, they got a couple big plays on us but that's football that's going to happen."
Since halftime against Utah, Eason is 33-of-67 for 362 yards with two touchdowns. After throwing just three interceptions through his first eight games, Eason has thrown four in the past two. 
"We could have run it better if we had anything going in the passing game," head coach Chris Petersen said. "For whatever reason it was out of sync. In the first half we had a couple of chances to make plays on balls but guys were jumping early, mistiming them, just the whole thing was out of sync most of the game."
Thankfully for the Huskies, they didn't need Eason and the passing offense to be on point. The UW defense held the Beavers to just 119 total yards, forced a turnover, and allowed just six first downs. Aiding Eason and the struggling passing attack was the Washington offensive line and run game, which accumulated 245 yards and a pair of touchdowns from Salvon Ahmed.
After Eason threw what could have been a game-altering pick-six — his second in consecutive weeks — Ahmed took a handoff to the house that made the lead double digits once again late in the third quarter. Ahmed finished the game with 175 yards on the ground and two touchdowns against a large amount of stacked boxes. 
"Take the space that's given, you can't do too much," Ahmed said. "We had to take advantage of the space that was given."
While the run game has produced on a consistent basis most weeks this season, the passing attack has been all out of sorts since the second half of last week. Heading into a bye, Petersen stressed a need to readdress the passing offense and get it back in sync against Colorado. 
"Hopefully we'll get as healthy as we've been and get some rhythm going back in our passing game," Petersen said. 
And the Huskies will need it. With all the outside noise and expectations that surrounded Eason this season, the quarterback is hoping to move forward and right the ship for the last few games of the year. 
"We got the win, my own performance wasn't to my own expectation but a win's a win," Eason said. "Defense did an outstanding job of keeping them away from us, and we responded… that's football, you're going to have good games and you're going to have bad games."
Reach Sports Editor Alec Dietz at sports@dailyuw.com. Twitter: @AlecDietz
Like what you're reading? Support high-quality student journalism by donating here.