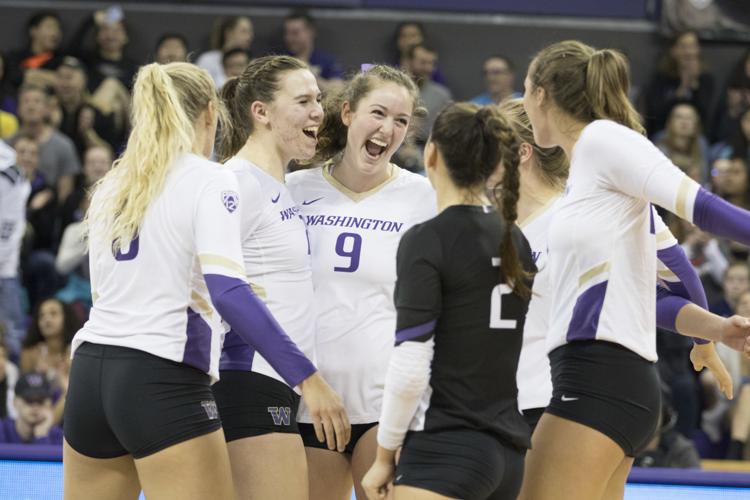 The No. 22 Wasington volleyball team went into the second round of the NCAA tournament as the underdog, but didn't look that way against No. 9 Creighton, outplaying the Blue Jays in almost every aspect of the game for a sweep (25-19, 25-21, 25-23).
The match started off back and forth, but the Washington block ensured it wouldn't stay that way. Three of points in the 6-0 run that ended the first set were off the UW block, sophomore Lauren Sanders getting a hand on all three and sophomore Samantha Drechsel assisting on two. The Huskies had 14.5 blocks in the match, forcing Creighton to hit under .100 in the first two sets, and forcing nine errors from star senior outside hitter Taryn Kloth.
Junior Shayne McPherson had 20 digs to lead the other aspect of the Washington defense. The Huskies outdug the Blue Jays 48-39, with quite a few points the result of long rallies.
Figuring out the Creighton offense was the spark Washington needed. Other than Drechsel, who hit at .312 with 14 kills, the rest of the Washington offense seemed to struggle to get going. Junior Kara Bajema was in the single digits, an out of the ordinary performance for her, and freshman Claire Hoffman was hitting only .095.
Still, it was enough for the Huskies. While all three sets were long, filled with rallies that went on for a while, they were able to get the job done in only three. They seemed evenly matched with Creighton up until the end, where long runs ended both the first and third sets in a dominant fashion. A three point deficit at 23-20 in set three seemed like it might be the beginning of a Creighton comeback, but five straight points won the match for Washington.
The Dawgs will advance to the Sweet Sixteen, where they're matched up against No. 8 Penn State, which has yet to drop a set in postseason play.
Reach Social Media Editor Hailey Robinson at sports@dailyuw.com. Twitter: @haileyarobin