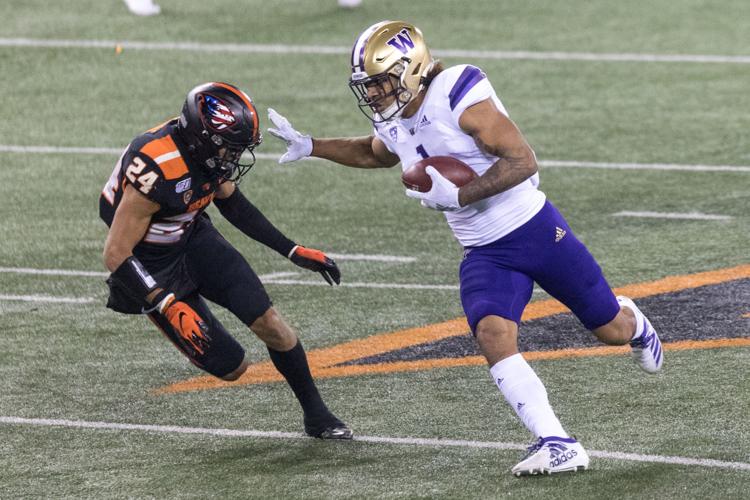 While 10,000 fans were piling into Hec Edmundson Pavilion before the No. 22 Washington men's basketball team's matchup against No. 9 Gonzaga, Chris Petersen met with the media just a few hundred feet away to discuss the Washington football team's selection to Las Vegas Bowl.
There, he announced that tight end Hunter Bryant and left tackle Trey Adams will not appear in the bowl game for the Huskies.
Bryant, a junior, announced his intentions to forego his final year of eligibility on social media two days ago. He's listed as one of the top tight ends in this year's draft class, and has been projected to go as high as the late first round.
"Certain guys, they've got to do what they've got to do, and that's all I can really say," Petersen said.
A redshirt senior, Adams is expected to go in the middle rounds, after multiple serious injuries over the course of his career on Montlake.
With Bryant out, Cade Otton should slide into the role of the UW's top tight end, leading a group with Jacob Kizer, Jack Westover, and Devin Culp. Behind Adams, redshirt freshman Victor Curne has been Washington's usual backup left tackle. Senior Henry Roberts, listed on the UW two-deep as the backup right tackle, could also get playing time in his final game in a UW uniform.
Eason to play
Immediately after talking about who wasn't going to play, Petersen turned to one man who will: junior quarterback Jacob Eason.
With the possibility of Eason also declaring for the draft and leaving school early, some thought he might do the same as Bryant and skip the bowl game to avoid the chance of getting injured. 
Despite giving the word that Eason will play, though, Petersen wouldn't say whether or not the quarterback will come back for his final year.
"All that stuff is between Jacob and his family and Coach Lake," Petersen said.
Injury updates
Petersen also touched on a handful of Huskies who have missed time with injuries.
Longest out has been redshirt freshman MJ Tafisi, who hasn't played since being carted off the field at Arizona Stadium after suffering a freak stinger in Washington's Oct. 12 matchup against Arizona.
Tafisi returned to practice weeks ago in limited capacity, but the coaches and medical staff have been bringing him back to game speed slowly.
"I think with MJ, that's something that everybody's trying to go as slow as possible on," Petersen said. "There's going to be plenty of time for him to play football."
When true freshman wide receiver Puka Nacua broke his foot in practice before Washington's Nov. 2 game against Utah, Petersen didn't rule out a return for the bowl game. But with the Huskies set to go to one of the earliest bowl games available, that timeline might be a hard one to accommodate.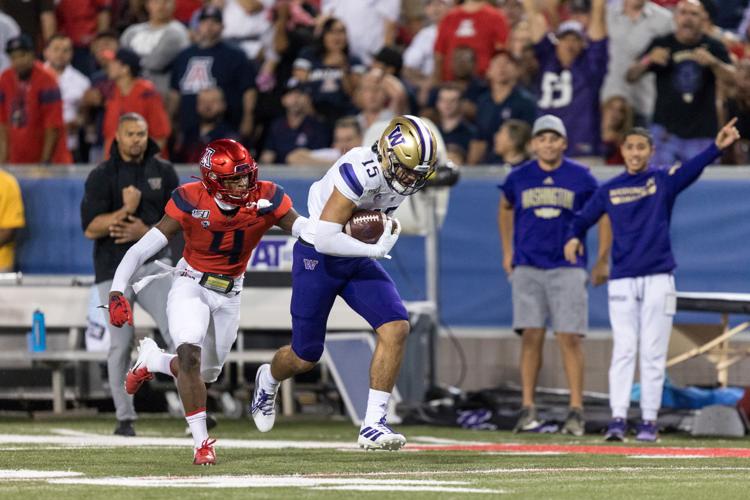 "That probably makes it tougher," Petersen said. "He's not in a boot or anything like that, so that's good."
Rounding out the injury news, Petersen said sophomore right guard Jaxson Kirkland, who left the middle of Washington's loss to Colorado and sat out the Apple Cup, has "a real good shot to play" in the bowl.
Reach Managing Editor Josh Kirshenbaum at sports@dailyuw.com. Twitter: @J_Kirshenbaum
Like what you're reading? Support high-quality student journalism by donating here.