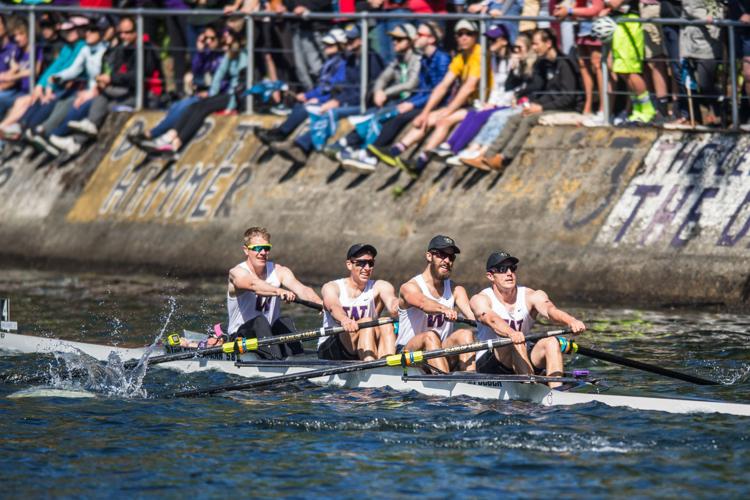 The Washington men's and women's rowing crews continued their surge through the spring by securing team titles and winning nine of 10 races Sunday at the Pac-12 Championships at Gold River, Calif.
Both crews came into the day ranked No. 1 in their respective polls.The battle-tested Huskies have faced a myriad of talented opponents this season, highlighted by Oxford Brookes and the Dutch National Team at last weekend's Windermere Cup.
Combined with competing in one of the toughest rowing conferences in the nation, the Dawgs felt prepared to defend their Pac-12 title.
Ranked second in each of those polls is Washington's long time rival, California. The day proved to mostly be a battle between the two storied rowing teams as they vied for the top spot, finishing 1-2 in all but one race. 
The first was the women's novice eight, where the Dawgs saw their largest margin of victory on the day. They finished in 6:53.069, over 19 seconds ahead of Cal (7:12.480). WSU and UCLA were in a tight race for third, with the Cougars ultimately prevailing by less than half a second. 
The varsity four was the first men's race of the day. Washington edged out Cal by nearly two seconds, posting a time of 6:41.900 to Cal's 6:43.754. It started a trend of close finishes between the two schools, as the following eight races were decided by no more than seven seconds. 
The Washington women replicated their success from a year ago, once again sweeping the competition at Pac-12s. A loss for the men in the novice eight kept the UW from a complete sweep, as they fell to Cal by just over two seconds.
The women's varsity eight provided the most surprising result of the day. Washington finished first to complete the sweep, but fifth-ranked Stanford beat out Cal to give the Bears their only third-place finish of the day.
Still, Cal was able to edge Stanford out in the total points tally, finishing with 36 to Stanford's 35.5. Those were good for second and third place, respectively —  Washington's 45.5 led the field.
On the men's side, a time of 5:51.243 was just good enough to defeat the Bears in the varsity eight, who finished in 5:52.691. The Dawgs had a final point tally of 72, good for first place over Cal (65) and Stanford (54).
The postseason continues for Washington on May 25 when the women visit Sarasota, Fla., for the NCAA Championships. Last year, they made history as the first team to ever sweep all races at the NCAAs.
The men will be racing in the IRA National Championships in West Windsor, N.J., beginning Friday, June 1. They won all but one race in the competition last year.
Reach contributing writer Jordan Duncan at sports@dailyuw.com. Twitter: @JordanDuncan43