[Editor's note: When I began my first fall quarter as The Daily's Sports Editor in 2017, I had a mental to-do list with two main items at the top. The first was to survive football season. The second was to make sure that sometime before winter break, one of our photographers got a good photo of first-year head coach Mike Hopkins looking suitably angry to blow up into a two-page spread for the Game Daily.]
A basketball student section's value is generally measured in noise, for which quantity, more often than not, is more of note than quality. Students are close to the court, usually almost on top of the the benches, and in a game in which communication is paramount, it's less about what you say to disrupt the opponent than how loud you say it.
The UW Dawg Pack is no exception. Sure, the group has plenty of wit, throwing barbs at Sean Miller's sweating habit, bad calls by Pac-12 refs, and the city of Pullman in general. But when the visiting team has the ball at Alaska Airlines Arena, the chants and jokes generally turn into a wordless, syllable-less, primeval roar that just keeps coming until the Huskies get the ball back.
It's not exactly a new concept, and when the Dawg Pack shows up en masse like it began doing again last season, it works. But for that reason, there aren't exactly many in-game chants that could be considered that unique.
But just as the the starters for each team sit down for the pregame introductions, there's a Dawg Pack signature. The students, already standing, turn as one to face away from the court and toward Section 1. For conference games, they reach down to the copies of the Game Daily provided for them, pull out the center spread, and hold up Pages 3 and 6 above their heads to the court. Then the announcer begins to call out the opposing lineup.
"At guard, a 6-foot-2 sophomore from West Linn, Ore., No. 3: Payton Pritchard-"
"WHO CARES?"
___
Before he was was a touring drummer of bands Falling in Reverse and Being as an Ocean, Anthony Ghazel was a leading member of the Dawg Pack. Before that, he was a wide-eyed freshman going to his first UW men's basketball game.
"I remember going there as a freshman and being like, 'Holy shit, the Dawg Pack is insane,'" Ghazel said. "I remember how funny it was when the other team was being announced and everybody was like, 'Who cares?'... and I remember just thinking the whole thing was hilarious."
"Insane" wasn't always a word that could always describe the Dawg Pack. As the Huskies have had good runs and bad stretches, so too has the student section waxed and waned. But when Jeff Halverson went to his first game as a student in the 2001-02 season, the Dawgs were coming off their second consecutive season going 10-20. That season — in which the UW went 5-13 in Pac-10 play and finished eighth in the conference — would be Bob Bender's last in charge. It wasn't a good time for the Dawg Pack.
"I think we got there in the middle of the first half, close to halftime, and we just sat wherever we wanted," Halverson said. "It was completely empty. Literally there were probably 10 other people in the Dawg Pack."
So, Halverson and his friends started to get to games earlier, attracting others to do the same. But it wasn't an overnight change. When Alex Akita walked into the Dawg Pack for the first time in 2003, there weren't many people there. But there was a familiar chant.
"I remember going to those early games when no one would be there, and the 20 students who were there would still turn their backs and do that 'Who cares' thing," Akita said. "So the rest of us — as more people came — you just got used to it."
According to Dan Lepse, the sports information director for the men's basketball team at the time, the chant began a few years before Halverson and his friends started going to games. His guess is that the first yells of "Who cares?" came out sometime between 1996-98, but he's not exactly sure.
Looking for the exact origin of the chant, that's a common theme. Some Dawg Pack alumni said it started as early in 1995. Some said not until 1998. For many — and for all this century — "Who cares?" was just a fact of Dawg Pack life.
"Just having even a little tradition like that chant to make yourself stand out, that was important," Akita said. "It allows you to have some sort of unifying factor."

And for Akita, whom many credit as having more of an effect on the modern evolution of the Dawg Pack than anyone else, the idea behind it all is simple.
"You get into college, and you're still sort of in high school mode," he said. "You're too cool to do anything. You don't want to stand out, you have to fit in. So going to a basketball game, if you see everybody else turn around and shout something, you'll probably do it. It's the moment where you have to stand out and yell something on your own at a player where that puts you on the spot that you're probably not going to do. But if everybody else is doing it and you're 18-years-old, you're probably going to do it too.
"I think that's how it starts. If you can draw people in to do little things like that, or clap your hands together, or say something together, eventually you can have 500 people doing that. That's when you turn it into something really awesome."
The idea of reading newspapers to ignore the other team during pregame announcements may well be as old as the chant itself. In the Jan. 6, 2011, edition of The Daily, there was an addition in a Game Daily insert for the UW's matchup with Oregon that night: the two famous words blown up to full-page size.
That design continued the rest of the year for home games. In the spring of 2013, it returned, this time with then-head coach Lorenzo Romar looking suitably agitated to go with the question.
Since then, it's remained that way in every Game Daily; until last year, that is, when Romar's picture was replaced by that of the incoming Hopkins.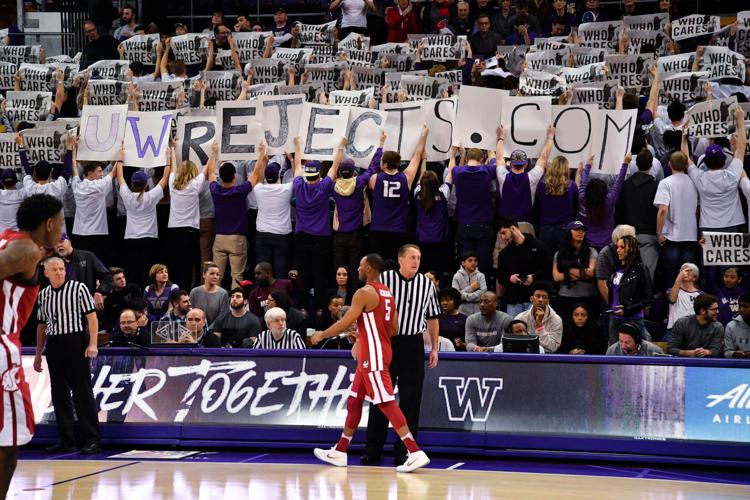 Hopkins' arrival came at an ebb in the tide of UW basketball, with the Huskies fresh off the heels of a 9-22 season despite having the No. 1 overall pick in the NBA draft in Markelle Fultz. Dawg Pack attendance had been down for the most part. Then the Huskies beat No. 2 Kansas.
Washington's road upset of the Jayhawks sparked interest, and four days later, when the UW hosted No. 12 Gonzaga, the Dawg Pack flashed back to the high points of Akita's time in charge. Despite a 27-point loss for the Huskies that day, the trend in the student section continued throughout Pac-12 play; its corp of leaders helmed by then-senior Nathan Santo Domingo.
And just like the old days, the now-bolstered Dawg Pack started its routine the same way it always had.
"When we all turn around, some people kind of get this look on their face, like, 'What's going on?'" Santo Domingo said. "And then the people who have been there for awhile, the first name comes out and we all yell 'Who cares?' and you just hear people start laughing, like, 'Oh, okay,' and then everyone starts doing it."
Now it's a new calendar year, and the Dawg Pack is set for its first Pac-12 home game with students back on campus. And when Stanford's starting lineup is announced Thursday, the student section will have its standard two-word welcome for each player.
"Not only is it really fun to be a part of, but it looks really cool, and the players really recognize that, which is something you don't really have a chance to create when you're at a different program," junior Max Chan, one of the current leaders said. "I haven't heard stories of anyone else creating such an experience for our fans and our players as we do here."
Reach Sports Editor Josh Kirshenbaum at sports@dailyuw.com. Twitter: @J_Kirshenbaum
Like what you're reading? Support high-quality student journalism by donating here.