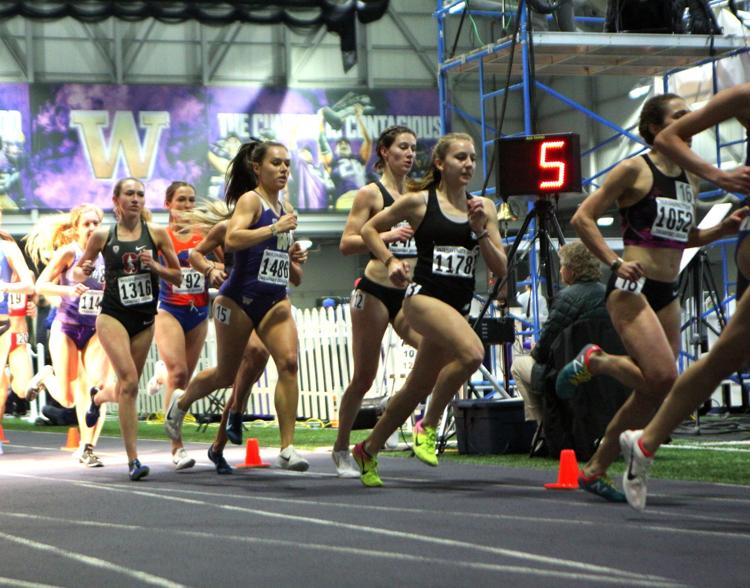 Izzi Batt-Doyle started her final track campaign at Washington as she finished ninth in the women's 3000 meter run, but improved from her previous personal record of 9:45.55 to a 9:09.30.
"Today, I was just aggressive and I was committed to who I was making a move and tried to not make any gaps," Batt-Doyle said. " I really wanted to run with effort and I knew I was aerobically fit. I've done a pretty good amount of base mileage, and I knew I had the aerobic capacity to keep going."
Before coming to Washington for the 2016 cross country season, Batt-Doyle began her collegiate career at St. John's, where she ran a 9:45.55 to break the indoor 3000-meter record. Last season, Batt-Doyle had to redshirt her track season after an injury, but came back late in the spring by setting new PRs in the 5k with a 15:48.42 at the Portland Track Festival and 1,500 meter run with a 4:17.80 at the Stumptown Twilight Meet in Portland.
Batt-Doyle believed her teammates being there for her really helped her push through the 3k.
"Having Emily [Hamlin] and Anna [Maxwell] to warm up with made things smoother, and even though I was in front of them, I felt I was pulling them along", Batt-Doyle said. "It made it feel like we were all together."
Director of Track & Field Maurica Powell was proud of Batt-Doyle for making a few adjustments that allowed her to improve.
"Izzi's really tough," Powell said. "What holds Izzi back is that she can tend to overwork, and she's bought into running more relaxed recovery pace, and taking days off. She's bought into doing her workouts at a high intensity and other things at a lower intensity. I'm proud of her for making changes that I think are helping."
Batt-Doyle is expected to run in the Husky Classic, which takes place on Feb. 8 and 9.
First test for DMR
Washington women's distance medley team consisting of seniors Hannah Derby, Imani Apostol, and Lilli Burdon, and junior Katie Rainsberger finished fourth with a time of 11:00.35 at the UW Invite, but have the third best time in school history.
Rainsberger is a three-time All-American runner who transferred from Oregon to Washington this year. Last season, she placed fifth in the NCAA West Preliminaries in the 1500 meters with a 4:26.98. Burdon is also a Oregon transfer; she ran a 15:42.22 in the NCAA 5,000 meter-final to earn First Team All-America honors and finished fourth in the 1,500 meters with a 4:25.19 last season.
In spite of a team consisted of athletes who have accomplished a lot individually, Maurica Powell still believes the support each person gives each other allowed them to be successful.
"The DMR's a hard race, and you need good competition," Maurica Powell said. "We committed to just lay it out there and run as hard as you could. Katie pushed the pace early. Lili on the anchor leg when it started getting slow started pushing the pace. Knowing that they were committed to running that way helped with the comradery because they were all bought into it. The kids feed off on one another."
Derby is excited for the season and confident this team has potential to go far this season.
"Having the four of us together is just really great," Derby said. "I'm just really happy to have the opportunity to go to nationals with all of them."
Other Notes
- Junior Connor Morello had a personal best today with a 1:49.69 and finished first in the men's 800 meter.
- Sophomore Evan Mafilas PR'd Friday with a 21.67 in the 200 meter. His previous personal best was a 21.87.
- In his first mile, junior Talon Hull ran a sub four-minute mile with a 3:59.55.
Reach reporter Daniel Li at sports@dailyuw.com. Twitter: @Daniel_Li7