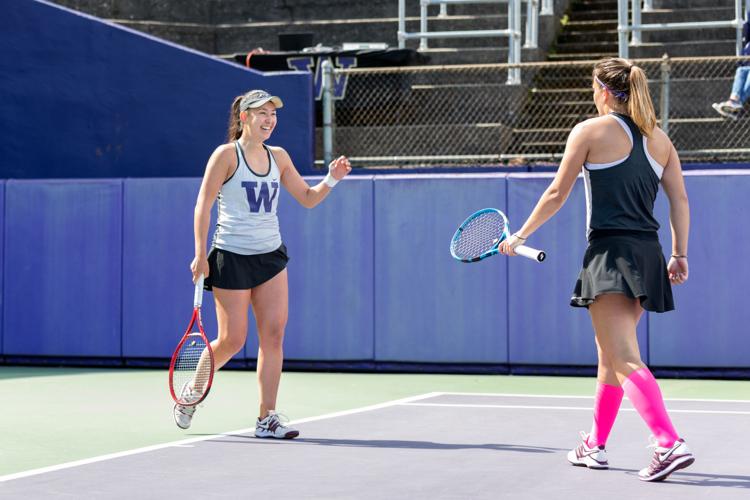 The Washington women's tennis team exceeded expectations this season, making it to the Round of 16 for the the first time since 2009, and fifth time in program history. Now, the Huskies are sending senior Stacey Fung and freshman Nika Zupancic as representatives to compete in the NCAA individual championships next week in Orlando.
Fung and Zupancic qualified for the doubles tournament as an at-large bid, along with eight other pairs from the Pac-12. The duo was the Washington's strongest this past year, going 20-9 over the course of the regular season into postseason play. Fung and Zupancic have also taken down several big names, including Arizona State's top-ranked pair of Ilze Hattingh and Lauryn John-Baptiste in the Pac-12 tournament.
"We're both pretty excited and we've been getting a lot of reps in," Fung said. "We want to make sure that we're playing smart, getting plays down, and that we feel confident heading into the tournament."
Zupancic has been playing doubles with Fung all season, and has stepped into a big role in her first season with the Huskies. Playing alongside Fung at No. 1 singles, Zupancic also earned herself the No. 6 singles spot, and finished Pac-12 play undefeated with a record of 6-0. Zupancic's strong play helped her earn a scholarship midway through the season, as she now has a chance to compete in the NCAA's.
Fung will also be competing in the singles tournament, becoming only the fifth Husky to ever do so in three seasons. Last season, Fung won her first singles match but was defeated in the second round of the tournament.
This season has been all business, and with Fung and Zupancic heading to Orlando, the two are focused on making the most of their trip, both on and off the tennis courts.
"Nika is obsessed with Harry Potter and since we're going to Orlando, Nika has been begging Coach [Robin Stephenson] to take us there," Fung said. "We're lucky because when we went to L.A. with the team, we got to go to Disneyland and everyone enjoyed that so hopefully we can do this too."
Match play for the NCAA's begins on Monday in Orlando, and continues up until May 25. 
Reach reporter Caden Conder at sports@dailyuw.com Twitter: @cadenmconder
Like what you're reading? Support high-quality student journalism by donating here.