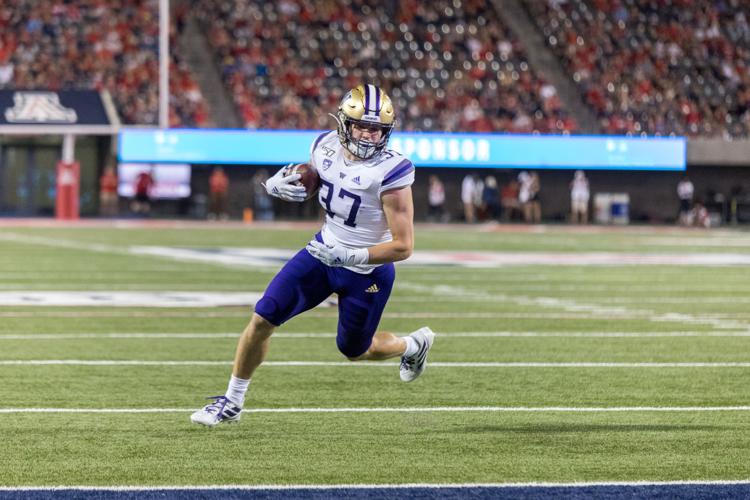 Pardon me for making one brief interruption from Oregon Hate Week to empty out the notebook on the No. 25 Washington football team's win over Arizona before we return to the regularly scheduled programming on the team from Eugene.
Husky fans, meet Jack Westover
If that game hadn't gotten ugly in the fourth quarter, Jack Westover could have been the lead story. As it is, he was relegated a bit down the pecking order of newsworthiness, but still ended up way more of the story from Saturday than fullbacks normally do.
Westover has played in all seven games this season, but he's shown up more and more on film the past couple weeks, culminating with a touchdown catch in Washington's first drive of the second half against Arizona.
(Brief aside, but Washington now has three players — Westover, Puka Nacua, and Richard Newton — who's first career receptions were touchdowns. That's got to be some sort of record, right?)
Listed as a tight end, Westover has spent his time on Montlake with Jordan Paopao's group, which began rotating more and more guys into the fullback spot last year. Cade Otton, Hunter Bryant, and Jacob Kizer all got reps lining up behind the quarterback and lead-blocking.
But increasingly over the past few weeks, Westover has taken that spot for his own, especially near the goal line. 
"He doesn't shy away from contact," tight ends coach Jordan Paopao said last Thursday. "A guy like that, you're able to really highlight him, give him a roll, and be able to create some ownership within his own mental game." 
He's primarily been called on to run block in the UW's short-yardage package, and he showed why on the drive after his touchdown, pushing Salvon Ahmed in on a pitch. Westover actually ended up as the lead blocker on all three of Ahmed's touchdowns, each one coming from the I-formation.
Jimmy Lake opens it up
Washington went up against one of the most athletic quarterbacks in college football in Khalil Tate, and made him look foolish pretty much all game long. Tate was on the run constantly, had to throw multiple balls away, and never settled into a rhythm, throwing for just 184 yards and getting sacked three times.
A big part of that had to do with a UW defense that by my count brought extra pressure 40 times over the course of four quarters. In the first half, the Huskies blitzed more often than not, blitzing 24 times and staying back just 18.
Not the usual UW offense
There were two notable absences from the UW playcalls Saturday. With redshirt freshman tailback Richard Newton out, Bush Hamdan stayed away from the wildcat, which had become a common call on short-yardage situations.
Less predictably, Washington all but eliminated its lateral passing game. The Huskies ran one swing screen to Sean McGrew out of the backfield (it lost four yards) and didn't run a single screen to a wide receiver.
Instead, when the Dawgs called plays to the edges, they did so with pitches and sweeps to Chico McClatcher. Hamdan also let Eason sling the ball around, with six completions of 20 yards or more.
Other notes
- The second half against Arizona was the first half in which Washington has won the time-of-possession battle since the BYU game, after five straight halves of losing it.
- Peyton Henry is currently sitting atop the national leaderboard for kickers after yet another good performance. The second-year starter is a perfect 14-for-14, leading the country in makes.
- With MJ Tafisi possibly missing time, Washington will need Ariel Ngata to step up on the inside like he did last Saturday. Ngata led the Huskies with eight tackles, moving from the edge to the middle for much of the game.
- One big story for the Huskies this week is going to be the health of the offensive line. Nick Harris missed the Arizona game entirely, and Jaxson Kirkland left midway through with a leg injury. Matteo Mele and Henry Bainivalu filled in at center and right guard, respectably, but with Oregon coming to town Saturday, the Huskies would prefer to not have 40% of their offensive line be back-ups.
Reach Managing Editor Josh Kirshenbaum at sports@dailyuw.com. Twitter: @J_Kirshenbaum
Like what you're reading? Support high-quality student journalism by donating here.