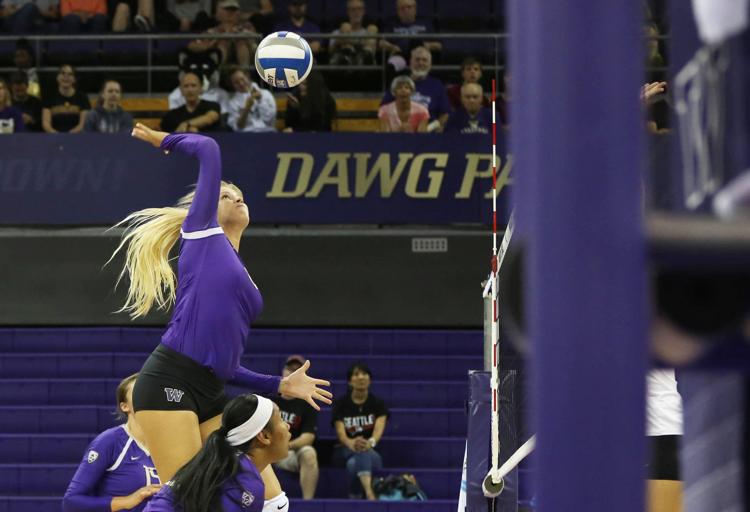 Avie Niece knows what happened last weekend. 
"I think Hawai'i played the best that they could and I don't think we played up to our standard at all," the senior middle blocker said. 
Hawai'i was scheduled as an early season test — a really strong team playing in front of one of the most intense crowds in college volleyball — and head coach Keegan Cook didn't think the No. 16 Washington volleyball team passed. 
This week will be just as tough, and Washington is looking at what happened against Hawaii to figure out how to deal with it. 
"We're excited to bounce back from our Hawai'i match, take what we can learn from it, and expect the same intensity," senior defensive specialist Cailin Onosko said.
So, what did Washington learn?
"A lot," Onosko said. "All areas of the game, we found parts we can work on."
First up on the list is hitting effectively against big blocks. The Huskies were blocked 18 times on Sunday, more blocks than any Husky currently on the roster has faced in a game. Figuring out how to hit past a strong block won't just be important when conference season hits, but this week when the Huskies head to the midwest and face No. 5 Illinois and Iowa.
This will be Washington's third meeting against Illinois in as many years, and the last two games were both tough losses for the Huskies. Both times, the Dawgs were outblocked, 13-9 in the 2017 tournament, and 15-5 in the 2018 nonconference season. 
Learning how to deal with opposing blocks is key to improving offense as the Huskies head to the midwest, and so is passing, where the Huskies also struggled. 
"I thought we overpassed too many balls, we obviously got aced a number of times," Cook said. 
Communication, Onosko said, is the main way Washington will try to deal with with passing troubles. The Dawgs have already been doing a lot of work on passing in the preseason, and have seen some improvements from last season, but there's clearly still work to be done. 
There's still work to be done when it comes to aces as well, at least when receiving. The Huskies were aced five times by Hawai'i. 
"Our serve-receive was pretty good on the weekend but it's got to be a lot better to beat a quality opponent like that," Cook said. 
The Huskies know exactly what they're looking for out of this weekend, and it's what they achieved in their third set win against Hawai'i.
"You always like when your team responds from a really bad set with composure," Cook said. "That's something that we value. We came out of that break with some composure and did things that we wanted to do. It's always about the response. I thought we responded well." 
While Washington has yet to actually respond to the loss on the court, they have gotten started, though they haven't had much time. 
They got back from Hawai'i at 7 a.m. Monday morning, and left again for Iowa a little after noon on Wednesday. Squeezed into those approximately two days were three practices, then the Dawgs were on the road again to face a team that the rankings say are even better than the one they just lost to. 
"The challenge of this schedule is similar to what it would be in December — you don't get a lot of practice time," Cook said. "You gotta watch some film, have some conversations, get a few reps, and that's what's going on here... That's great practice for December." 
Reach Engagement Editor Hailey Robinson at sports@dailyuw.com. Twitter: @haileyarobin
Like what you're reading? Support high-quality student journalism by donating here.