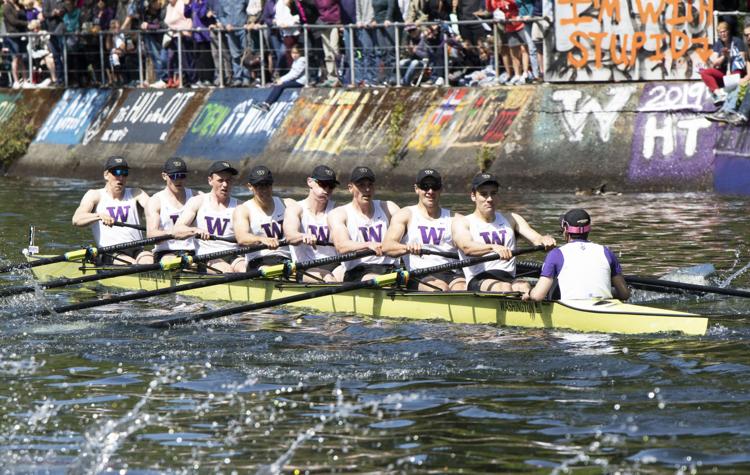 The Huskies won nine out of 10 races Sunday morning on Lake Natoma in Gold River, Calif. to capture the men's and women's Pac-12 Championships for the third year in a row.
Wind and rain led to some reshuffling of the Pac-12 Championship races. To combat the unfavorable weather conditions, both varsity eight races followed the opening race of the men's varsity four.
In the women's varsity eight, California raced out to a slim lead 500 meters in over Stanford and Washington. At the halfway point, the Golden Bears had a five-seat advantage over the Huskies. The UW made a final surge but fell just short of California (6:11.901) and Stanford (6:12.824) with a time of 6:13.214 to finish in third.
For the men's varsity eight, Washington gained an early lead of about two seats over Cal at the 250 meter mark. The Huskies and the Golden Bears emerged from the rest of the pack while battling down the home stretch of the race. In the end, Washington edged out the win with a time of 5:34.950 to Cal's 5:36.217.
The men's varsity four kicked off the morning's action as the Huskies crossed the line in 6:18.298 to the Golden Bears' 6:22.801.
After trailing at the 1,000 meter mark, the Washington women's second varsity eight cruised to a victory of over seven seconds with a finish time of 7:10.967 over Stanford's 7:18.303.
The men's second varsity eight led from the start and came in at 6:05.059 over second place Cal (6:08.629).
Similar to the men's second varsity eight, the women's varsity four raced out in front and never trailed to a first place finish of 7:26.553 over Stanford's 7:34.887.
In the men's third varsity eight, the Huskies (5:55.887) beat California by just over seven seconds (6:03.224).
The Washington women's third varsity eight (6:39.054) crushed the rest of the field on its way to a 10-second victory over Stanford (6.49.984).
The UW men's novice eight turned in a commanding victory of over 32 seconds with a time of 5:50.809 to UCLA's 6:23.225.
For the final race of the Pac-12 Championships, the Washington women's novice eight finished the 2,000 meters in 6:28.972 over Cal's time of 6:40.416.
The Washington men will compete for a national title at the IRA National Championships starting May 31, while the UW women begin their NCAA Championships on the same day.
Reach reporter Evan Wong at sports@dailyuw.com. Twitter: @evan_wong29