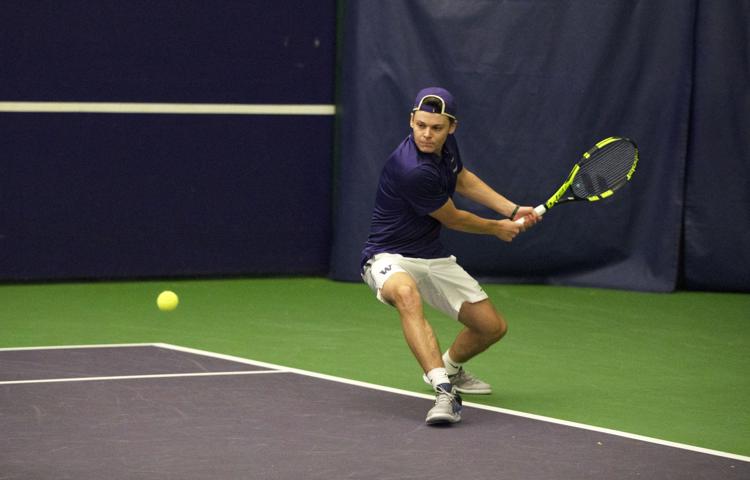 The Washington men's tennis team wrapped up its weekend at home this Sunday with a 4-3 loss to Santa Clara.
"There are definitely things we can do better," head coach Matt Anger said. "But credit to them for coming in and doing things to disrupt our game."
The Huskies (2-3) got off to a strong start, winning two of three doubles matches and taking a 1-0 lead.
Sophomore Jack Davis and Senior Piers Foley cruised through their match, beating Santa Clara's Andrew Gu and Jesus Barajas 6-1. 
The freshman pairing of Kasper Smith and Ewen Lumsden fell 6-3, which put the pressure on seniors Enzo Sommer and Kawika Lam to deliver a win in their match.
After being tied at four games each, Lam and Sommer won three out of the next four games to clinch the doubles point for the Huskies. Lam and Sommer are now 6-2 this season when paired together in doubles. 
In singles, four out of the six matches needed a deciding third set to determine the victor. 
Freshman Ernesto Turegano battled back from a one-set deficit to win 1-6, 6-3, 6-4. Foley also battled back after dropping the first set, beating Connor Garnett 6-7 (5), 6-3, 6-3.
Sommer and Davis both fell in straight sets, which narrowed the UW lead to 3-2. 
With two singles matches remaining and a lead of 3-2, the Huskies would drop both of their last singles matches to lose.
Freshman Ewen Lumsden dropped his match 6-4, 4-6, 6-1. Shortly after, senior Sebastien Hawken fell in the deciding match 3-6, 6-3, 6-4.
Next up for the Huskies is an important road-trip where they'll face Michigan on Feb. 8, and then Wisconsin on Feb. 10.  
Reach reporter Caden Conder at dailysports@uw.com Twitter: @cadenmconder
Like what you're reading? Support high-quality student journalism by donating here.