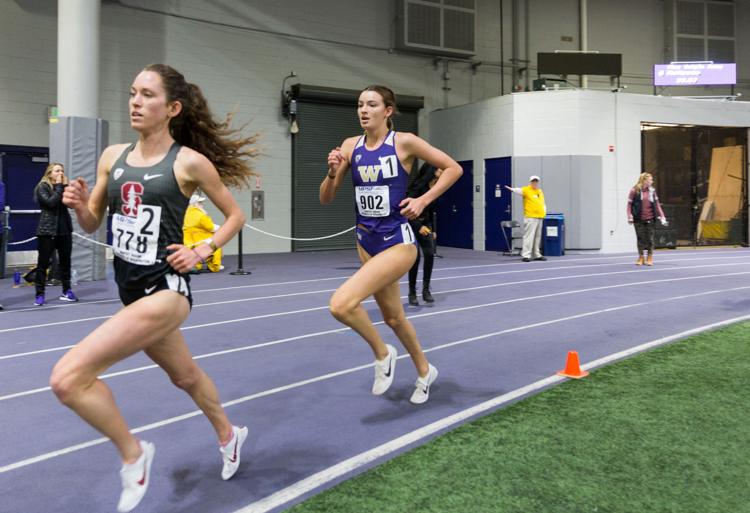 Despite the stakes at the NCAA Indoor Championships, the UW track and field team's athletes feel more optimistic because they know they can control their own destiny. Before championships, coaches and athletes continued to look at the standings and see if there was any potential for athletes from other schools to surpass them. However, by knowing who has officially qualified, each athlete has been more upbeat, and track & field head coach Andy Powell has seen the differences.
"I think we're seeing a little bit more of an excitement this week," Powell said. "People know that they're in good shape and they're ready to run. Everyone's in a good mood. There's been a lot more jokes and a lot more chatter."
Nationals are uncharted territory for the majority of the Washington track team. Besides Oregon transfers Mick Stanovsek, Katie Rainsberger, and Lilli Burdon, each qualified Washington athlete is going to nationals for the first time. Head director of track & field Maurica Powell kept her message simple to the athletes making their debut.
"I think the best advice is that you gotta keep doing what got you here," Powell said. "That's a hard thing for young kids to understand until they get into this situation. Performing well in the national meet means taking the skills and attitudes that got you to the meet and reproducing them. If you're typically calm, you've got to continue to be calm. Don't change things that made you successful."
For the women, despite little nationals experience, the qualified athletes all have a long history with each other. Seniors Hannah Derby and Izzi Batt-Doyle, as well as Rainsberger and Burdon, are all roommates. Derby and senior Imani Apostol have known each other for four years. Maurica Powell thinks their camaraderie will help during nationals.
"They have a lot of chemistry and history but they're new to this meet," Maurica Powell said. "They have a lot of pride, and this is something they haven't done before."
Although winning is the ultimate goal, Andy Powell's hope is that each athlete performs to their apex. He is confident that each athlete's preparation has allowed them to be ready for nationals.
"For us it's our first year as coaches, and a majority of the group is their first time here," Powell said. "Getting into these situations and trying to do the best they can on that day is the most important. I think we've done a good job, and they're ready to go."
You can catch the national indoor championships Friday, March 8. The meet will be live on ESPN3.
Reach reporter Daniel Li at sports@dailyuw.com. Twitter: @Daniel_Li7
Like what you're reading? Support high-quality student journalism by donating here.