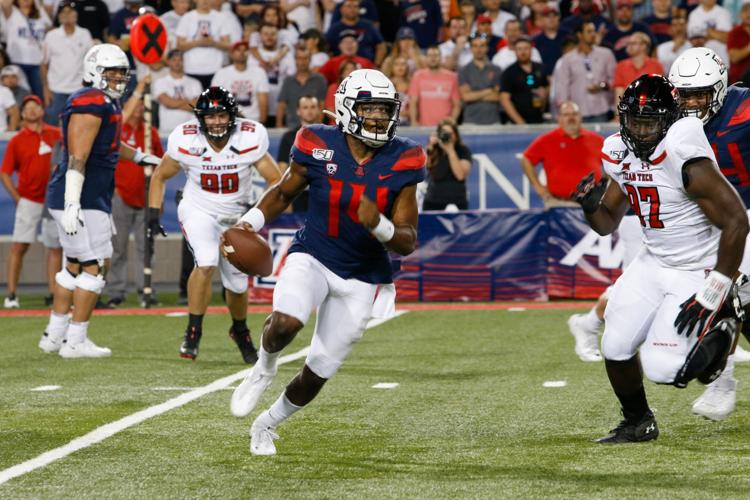 Before the Washington football team takes on Arizona, we had the chance to ask Sports Editor Jack Cooper — who covers the Wildcats for The Daily Wildcat — some questions. Here's what he had to say:
When Arizona is mentioned in the national media, or even the conference media, Khalil Tate and JJ Taylor are the headliners. But who else has stood out for the Wildcats so far this year on offense and defense? 
The past three games JJ Taylor has been banged up and hasn't played much. This has presented opportunities for Gary Brightwell and Darrius "Bam" Smith and they haven't disappointed. Against Texas Tech, Ariona had a 13 play, 99-yard drive in the fourth quarter that resulted in a touchdown. Every play on that drive was a run, anchored by Smith and Brightwell. 
Switching to defense, outside of Colin Schooler, Lorenzo Burns and Jace Whittaker have been Arizona's two best players. Both have three interceptions which is tied for best in the country. Arizona teams usually take a lot of heat for how bad their defense is but recently the defense has been playing a lot better. 
It was obviously a tough start to the season in Hawai'i, but now the Wildcats have rattled off four straight wins and are leading the Pac-12 South. What has changed from game one to game six? 
That game in Hawai'i really was a tough start to the season and it was a game Arizona should have won. They had 6 turnovers but weren't able to turn those into points. I really think that game sparked something inside Tate and he's been someone playing mad. Sumlin has also talked about moving players around based on where they fit best. 
I also think players have just needed to get more confident in their positions. Arizona lost a lot of receiver depth after last year and was still getting used to their new players. Drew Dixon, Tayvian Cunningham and Jamarye Joiner have all been key factors in the offense.  
Arizona has an offense that is averaging over 200 yards on the ground per game. The threat of the run is obvious, but how has Khalil Tate improved as a passer? Has he? 
If you look at last week against Colorado, Tate threw for a career high of 404 yards and three touchdowns. I think last year was really the year where got better with his arm. When he bursted into the college football spotlight two years ago, teams didn't know how to play against him and stop him. But last year teams were able to account for him running and also he had a nagging ankle injury which limited his mobility as well. 
But this year I think the play calling has gotten better. There have been more quick hitting passes and jet sweeps which gets the ball out of Tate's hands quicker and then when the defense isn't ready he can crack one for a long TD run or pass. 
What is one number or stat about the Arizona defense that everyone should know, and why will it factor into the game against UW this weekend?
The stat that's most impressive to me is nine interceptions. The defense still gives up a lot of yards but has a bend-but-don't-break spirit about them. If Arizona hopes to beat Washington they're going to need to create turnovers and probably finish with at least a plus two turnover margin. 
Do you have a prediction? 
If Arizona's defense can step up and get the turnovers they need they'll pull out the upset. Arizona 24 - Washington 21.
Stay up-to-date on all things Arizona Athletics on Twitter at @WildcatSports.
Reach Sports Editor Alec Dietz at sports@dailyuw.com. Twitter: @AlecDietz