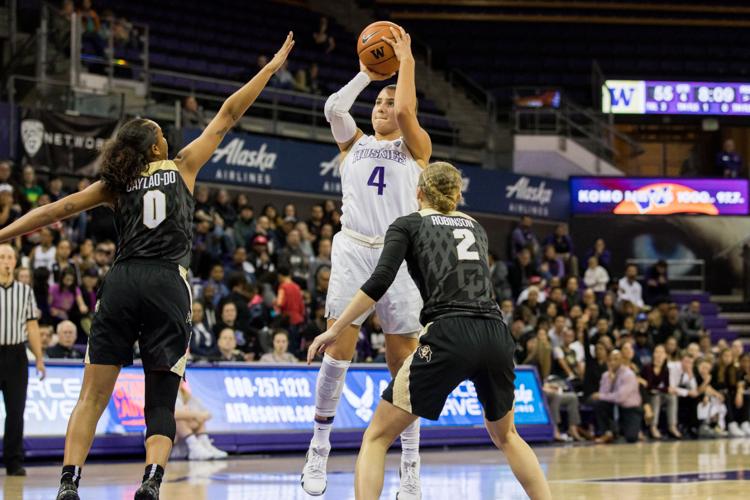 "Finally!"
Head coach Jody Wynn had that to say after the Washington women's basketball team's first conference win of the season, 68-58 over Colorado.
But it wasn't because the Huskies (8-8, 1-3 Pac-12) picked up their first Pac-12 win since January of last year.
"We weren't happy with the way we started against Mississippi State, Washington State, and the Oregon schools," Wynn said. "We put ourselves in deep holes. I thought we did a nice job off of the offensive glass tonight, we did a good job moving without the ball in [the first] quarter, and I thought we did a nice job of generating offense with our defense."
In their best quarter to date this season, the Huskies outscored the Buffaloes (10-5, 0-4 Pac-12) 27-14, shot 57 percent from the field, and held CU to just five made field goals.
"I thought we did a great job in that quarter," junior guard Amber Melgoza said. "Jody told us all week to 'pretend that you're down by 15' and to jump on them right away, and we did that well tonight."
Colorado was without its star point guard, Kennedy Leonard, who was seen on the sideline with a boot, and paid the price for it in spurts. Without a strong ball handler for most of the game, the Buffs had to rely on other players to take the ball up the court against Washington's stingy press.
"She's the main ball handler," Melgoza said. "They had to have young ones step up and it's Pac-12 so it's hard to do that. I thought T.T. [Watkins] did a good job and I thought Jenna [Moser] did a good job in the front row and it got them rattled."
But Washington's gameplan didn't change completely when Leonard was ruled out, Wynn said.
"We're going to do what we do," Wynn said. "We need to get back to forcing turnovers like we did last year. I thought we did a nice job of giving their guards different looks, sometimes we jumped them, sometimes we didn't."
However, Colorado was never really out of it completely. In the second quarter the Buffs, led by Quinessa Caylao-Do, cut the UW lead to just six points. At halftime, Wynn was not happy with how the Huskies had performed to let the Buffaloes back into the game. But the Dawgs responded, as they had against both the Oregon schools last weekend, and they responded well.
"The response in the locker room was, 'Okay, let's put our foot back on the gas,'" Wynn said. "And be in tuned to finishing possessions."
Coming in with a balanced offensive attack, no Washington player scored more than 15 points, but six scored more than eight points, led by Melgoza. 
In perhaps her best game of the season, Haley Van Dyke grabbed nine points, and was as active as she's been all season on the defensive end in a good game for the forward.
"I think today we really just wanted it a lot more," Van Dyke said. "We needed a win under our belt, and we got it."
The win also means that Washington picked up its eighth victory of the season, eclipsing its total from last season of seven.
"We're going to celebrate every win," Wynn said. "Winning at this level is really, really difficult. These kids are training for maybe 29 opportunities, it isn't always guaranteed if your hurt or sick, we have to celebrate every win we get. But we'll be refocused at 9 a.m. tomorrow when we get back to the arena."
Next up, Washington will take on Utah on Sunday at 2 p.m.
Reach Assistant Sports Editor Alec Dietz at sports@dailyuw.com. Twitter: @AlecDietz
Like what you're reading? Support high-quality student journalism by donating here.