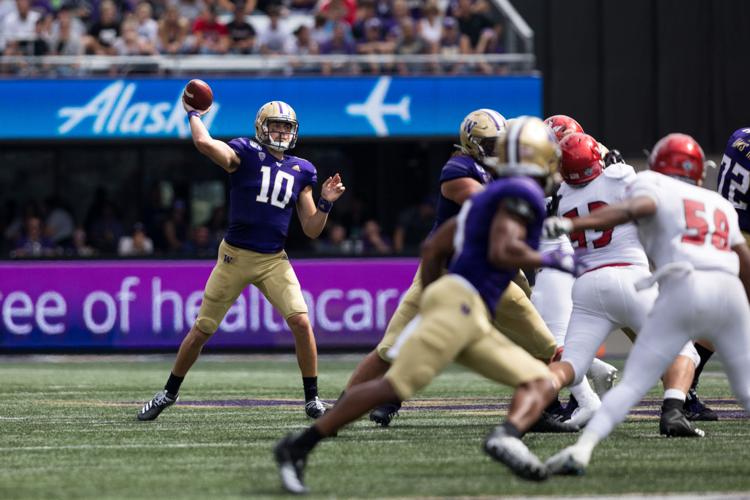 Questions surrounding the No. 13 Washington football team were quickly and definitively answered in a dominant 47-14 performance over FCS powerhouse Eastern Washington Saturday afternoon at Husky Stadium. 
In their season opener, the Huskies (1-0) rocketed out to a quick start on offense, led by Jacob Eason, who threw for three touchdowns in the first half. The junior transfer from Georgia showcased all his touted abilities, highlighted by a 50-yard bomb laced beautifully to senior Andre Baccellia. 
The junior finished 27-of-36 for 349 yards, four touchdowns, and no interceptions in his debut at Husky Stadium. 
But while Eason had a standout debut for the Huskies, senior receiver Aaron Fuller showed his stuff as a key contributor, finishing with five catches and 73 yards, including two highlight-reel touchdown catches.  
The first came on the goal line after Eason tossed a high fade to the senior, who hauled it in one-handed while somehow tapping his toe in bounds. Then, in the second half, Fuller toe-tapped his way to another touchdown, this time from 18 yards out. 
"It's a player making plays," Eason said. "He has that in him, and he's a great target to have. Even on some of those things I saw, I was shocked, I was like, 'Dang that's a nice catch.' It's just awesome to have guys like that to throw to."
Along with Fuller, Chico McClatcher, Hunter Bryant, and Andre Baccellia all had over five catches and 50 yards receiving each in a complete performance from the receivers. 
Having to replace multiple stars on defense from a year ago, the Huskies looked strong once again against a EWU offense that averaged over 43 points per game last year, holding the Eagles (0-1) to just 14 points and bringing down speedy quarterback Eric Barriere four times for loss. 
"I was really pleased we got any sacks," head coach Chris Petersen said. "He's a really hard guy to sack, we watched all that tape and he's as good of a scrambler as we'll see… We saw him get out of some things but that's his thing. For us to get him four times, we're really pleased." 
Senior defensive lineman Benning Potoa'e got to Barriere twice after just bringing one sack last season as an outside linebacker. Behind him, the UW experimented with plenty of defensive back looks, but for the most part stuck with a core of Kyler Gordon, Keith Taylor, Elijah Molden, Myles Bryant, and Cameron Williams. 
However, the Huskies were able to rotate that group in the second half, and at one point through out a defensive backfield that featured three true freshmen in Williams, Asa Turner, and Trent McDuffie. 
"It's exciting, it reminds me of my freshman year with me, Keith [Taylor], and [Brandon McKinney]," Molden said. "I just told them to cut it loose, don't think too much, that's the main thing, and have fun."
The defensive backs were solid for most of the game with first time starters in Gordon and Williams, allowing 211 passing yards, and really just giving up one big chunk play at the end of the first half. As it has always been with the UW secondary, defensive coordinator Jimmy Lake is going to rotate through everyone to get some playing time. 
"We have a lot of confidence in the DB room," Molden said. "That's just the standard."
Now with a game under their belt, the Huskies will have a bit of confidence in their step as they look forward to California next week in an early Pac-12 North matchup. For Eason, who had to wait two years since he had last seen the field at Georgia, it was good to be back on the field. 
"You dream of things like this," Eason said. "The way we handled practice this week, we got into the gameplan, did the small things and just took it day by day. I think this team has done a great job on focusing on each individual day. Came out today and played like we have been all camp long." 
Reach Sports Editor Alec Dietz at sports@dailyuw.com. Twitter: @AlecDietz
Like what you're reading? Support high-quality student journalism by donating here.