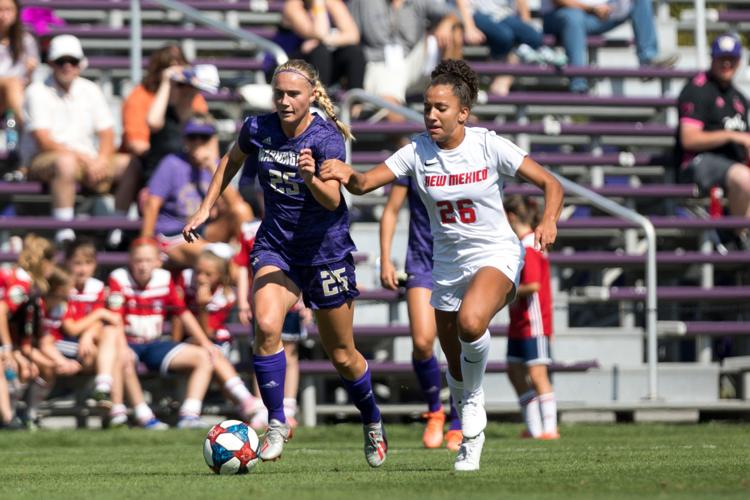 The Washington women's soccer team once again looked dominant on offense in a convincing 5-0 win over Cal Poly.
After getting up six shots early, it was in the 18th minute where the seventh shot gave UW (4-2-2) the lead it would hold all night. The Mustangs (2-6-1) didn't even get up that many shots in the entire first half.
Ameera Hussen sent a shot towards goal, but it was deflected and rolled right towards Kennedy Smith who took the angle past keeper Sophia Brown for the early UW lead. This was Smith's second goal of the season, and second in the past two games.
It only took three minutes and some change for the Huskies to double up on their lead, this time with a much more calculated attack. Mireya Grey led the ball up to Isabella Castro deep right in the box. Castro then crossed in past the Cal Poly keeper for Summer Yates to drive it home for her fourth goal of the season.
Yates captured her first career brace just five minutes into the second period. Freshman Helena Reischling pushed a fantastic pass to hit Yates in stride past the defense, with just the keeper to beat, and the forward did so with ease.
Great ball movement also hallmarked the third goal for the Dawgs. Castro passed to Karlee Stueckle for a give and go, then Stueckle fired back to a cutting Castro who snuck a goal in just before halftime.
The fifth and final goal for the Dawgs came from freshman Ally Remington for her first collegiate goal. The opportunity came after a Makayla Woods shot missing off the crossbar and rebounding into the box.
The shot accuracy in tonight's match couldn't mirror the perfect standard set on Sunday night at TCU, but that doesn't matter as much when balls are still going into the net. Washington got 11 of its 25 shots on target.
This is the first time since 2010 in which the Huskies have scored three or more goals in back to back games. In these past two games, UW has scored more goals than the six games prior.
On the defensive side, Washington only allowed eight shots, and keeper Siena Ruelas secured two saves en route to the team's fourth shutout of the season. The defense also did not allow a single corner all night.
Washington will now come home where it will open up conference play against Oregon on Friday Sept. 27 at 7 p.m.
Reach reporter Josh Eddy at sports@dailyuw.com. Twitter: @JoshTreEddy
Like what you're reading? Support high-quality student journalism by donating here.