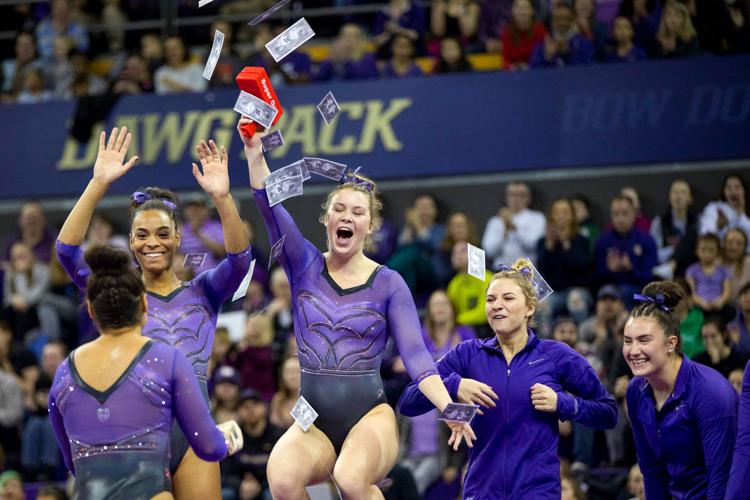 A gymnast in a purple and gold leotard swings around the high bar and goes flipping through the air. She lands on the mat below without a hop, sticking her landing. Purple money goes flying.
The Washington gymnastics team has a tradition unlike any other in UW athletics. To celebrate a successful routine, they shoot off a money gun.
It's a spectacle that's delighted both home and away audiences since it originated last season.
Last year, inspired by the Miami football team's turnover chain, LSU gymnastics introduced the Stick Crown, celebrating successfully stuck landings and creating a new tradition. The Huskies were looking for something similar to celebrate their success, and in a 197.025 performance at Arizona State last February, first-year assistant coach Ralph Rosso noticed the unique way then-sophomore Maya Washington recognized when her teammates performed well.
"I would rub my fingers together like I was holding money," Washington said. "That's how it started."
Rosso went to Amazon the next day and ordered a money gun. He wrapped it up, labeled it "Super Secret Stuff" and presented it to Washington before the Huskies hosted Stanford the next weekend.
"The coaches gave it to us and we were all super, super excited," senior Malory Rose said. "We were like, 'This is super cool, nobody else does this in the country.' It makes us unique. It was just exciting and fun to bring something into competition to keep us rolling."
The money gun, with personalized fake "Washington Gymnastics" cash, was intended by the coaches to be a one-time thing, but the Huskies loved it.
"It's turned into this every meet, every great routine," head coach Elise Ray-Statz said.
There's something electrifying about purple cash flying through the air after a gymnast finishes a successful routine. It shows the audience just how proud the Huskies are of their performances.
Part of it is just because, as Maya Washington says, "Money is obviously, like, awesome." But, while it started out just as a "stick gun" to celebrate successfully stuck landings, the money gun has also contributed to a culture of hard work in the practice gym at Alaska Airlines Arena.
"Our slogan for this season is 'money in the bank,'" freshman Brenna Brooks said. "It's all of our hard work paying off, putting that money in the bank. I feel like it's an energy source, and it drives us."
Just like there's (fake) physical money, there's also a physical bank.
"We have a piggy bank in the gym, too, so when we do high-quality work in the gym we put paper money in the piggy bank and at the end we see how much we've earned," Washington said.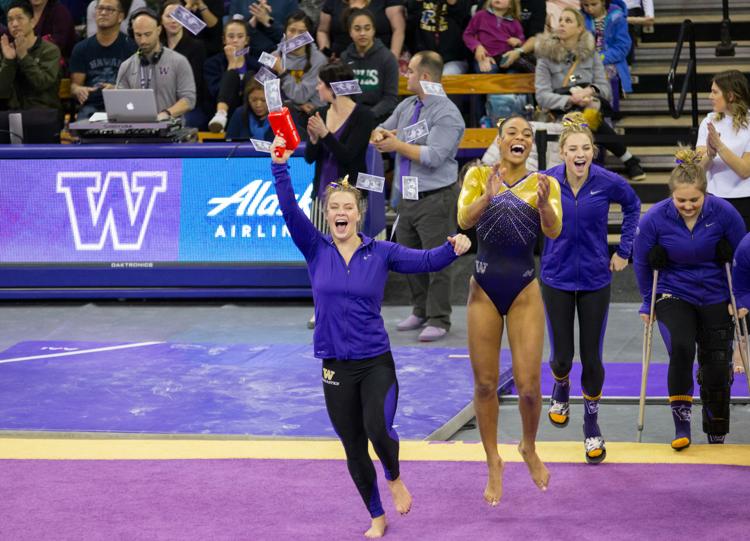 It drives the Huskies to work harder in the gym to improve the product on the competition floor.
This year, the Dawgs haven't been wholly satisfied with some of their performances, and chalk that up to nerves in competition. Ray-Statz said the money gun was originally brought in to help them have more fun during competition, and it's something that continues to bring a lighter energy to how the Huskies perform.  
"It just brings a fun aspect to the meet,"  Washington said. "Sometimes we can be a bit tense but seeing money flying around, it kind of loosens us up and we have fun with it."
There's no designated role of shooting off the money gun. Usually, you can spot one of Washington's six freshmen on the side of the mat holding the red gun, but Maya Washington still likes to be the one to shoot it off once she's finished her own routine.
"I still do both, I still shoot the money gun and make hand gestures, but it's easier for the audience to see," she said. "Especially for people who don't really know how gymnastics works and they're at a meet and they don't really know what's good and what's not, if we shoot the money gun, they're like 'OK, that was a good routine, that was a high-quality routine they're proud of.'"
Since Feb. 24, 2018, the money gun has been a part of how the Huskies get hyped to compete and do the best they can in competition.
"It was really cool, we wanted to shoot it every single routine we could," Washington said. "That's what motivates us to do better routines, so we can shoot the money gun. There's a sense of pride when we do it, we know we earned it, we earned that money, and we earned our spot in the lineup."
Reach Social Media Editor Hailey Robinson at sports@dailyuw.com. Twitter: @haileyarobin
Like what you're reading? Support high-quality student journalism by donating here.