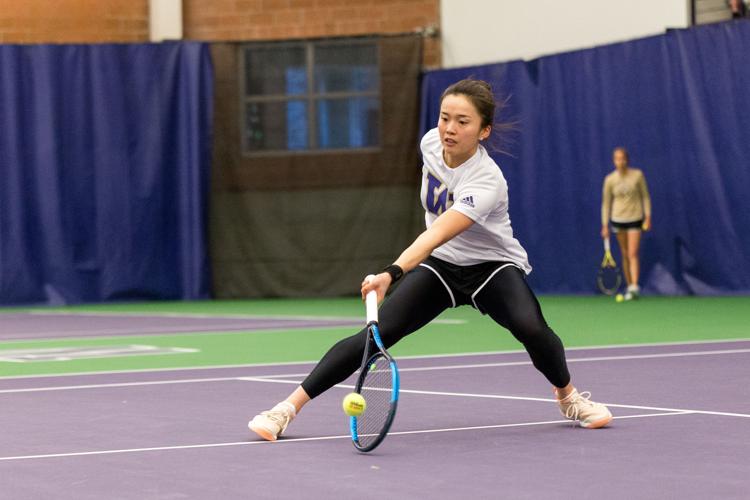 In what was a competitive ranked matchup, the No. 14 Washington women's tennis team fell short, losing to the No. 16 Florida State, 4-3.
Washington's first loss of the season came down to the final two singles matchups. Sophomore Zoey Weil bounced back after a 6-0 loss in the first set to win the second set 6-4. However, she fell short in the final set, losing 6-4. Senior Natsuho Arakawa's match was ongoing as Weil's loss meant FSU claimed the win. Arakawa grabbed a consolation win (6-2, 4-6, 7-6) which maintained her undefeated personal record.
UW's two singles wins came from junior Vanessa Wong and sophomore Sedona Gallagher, both of whom remain undefeated. Wong's match resulted in a 7-6, 6-4 victory, while Gallagher cruised to a 6-4, 6-2 triumph.
In the remaining singles matches, senior Katarina Kopcalic and sophomore Nika Zupancic both took their first losses of the season. Kopcalic fell to Nandini Das of Florida State (3-6, 4-6). Zupancic was defeated in similar fashion, losing 3-6, 3-6.
The doubles point followed the theme of the match, resulting in a close victory for Florida State by a score of 2-1. The deciding match was closely contested by Weil and Zupancic. The sophomore duo fell short, losing 4-6.
Claiming a 6-3 victory in their set, Wong and Arakawa continued their strong form in doubles improving their record to 4-0.
However, Gallagher and Kopcalic were swept 6-0 by Petra Hule and Victoria Allen, meaning UW dropped its first doubles point of the season thus far.
The Huskies continue their season next weekend, hosting Princeton in the ITA Kickoff Tournament on Jan. 25.
Reach reporter Luka Kučan at sports@dailyuw.com. Twitter: @luka_kucan
Like what you're reading? Support high-quality student journalism by donating here.