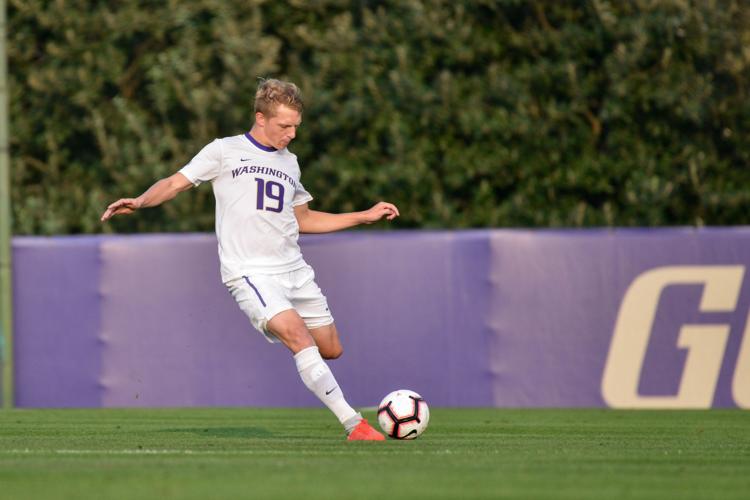 The No. 23 Washington men's soccer team is trending up, despite falling back 20 spots in the United Soccer Coaches Poll this week. Coming off their most dominant win of the year against Gonzaga, the 3-1-0 Huskies head back home after a three-game road trip to face a couple of quality opponents.
After losing in double overtime to Denver last week, the UW responded in a big way, putting on a near perfect performance in a 3-0 victory over the Zags. Players like senior midfielder Corban Anderson, redshirt junior midfielder Joey Parish, and redshirt senior forward Scott Menzies helped the team stay on the attack for the majority of the game, barely giving Gonzaga any opportunities to touch the ball, much less score.
Head coach Jamie Clark feels his roster is more versatile than ever before, and feels that he can mix and match personnel and play styles for whatever gameplan he wants to make.
"I think we've been comfortable in different facets of the game," Clark said. "In previous years I feel like we've had to force the tempo and play at a high tempo all the time, and this year we've been happy to press the game, but to also give the other team the ball for periods of the game. I just think we're more multidimensional than we've been in past years."
Menzies scored two goals on the game bringing his total to four on the year, which leads the Pac-12. He always seems to be in the right place at the right time, and the secret to this lies in how simple he makes the game for himself.  
"I don't know, you just look for goal and I think that's the first thing in your mind: I wanna score goals," Menzies said on his mentality. "You end up getting a couple extra shots off whereas maybe sometimes someone goes sideways instead of shooting it and extra shots equal more goals, so I think you just got to be actively looking for it."
Although Washington scored three goals against Gonzaga, each goal was aided by multiple assists, which has become a bit of a trend for the offense. In fact, four Huskies are tied for first in the Pac-12 with two assists: Parish, redshirt sophomore defender Kasey French, redshirt sophomore defender Cole Grimsby, and junior midfielder Jaret Townsend.
Most players on this 2018 squad have a few years of experience under their belt in Clark's system, and this familiarity both with the system and with each other is producing visibly and statistically impressive results.
The offense is only going to get better with the re-integration of sophomore midfielder Blake Bodily to the rotation. Bodily entered as a sub against Gonzaga for his first game action of the year and attempted three shots, one on goal. Look for Bodily, primarily an assist man and facilitator last season, to create more of his own shots this year as his offensive role inevitably expands.
Washington will need all of the offensive help it can get in its next two games. First up Thursday is California State Northridge. The Matadors are also 3-1-0 on the season and fresh off a 6-1 bludgeoning of Utah Valley. The game was tied 1-1 at halftime, but sophomore forward Daniel Trejo, who made the Big West All-Freshman Team a season ago, posted a hat trick in the second half as part of a five-goal outburst by CSUN.   
They already have experience playing a Pac-12 team this year, losing to Stanford in an exhibition game.
However, Sunday's game against No.14 Akron may prove to be the toughest game the UW plays all year. Last season, the Huskies went to Ohio and got shut out by the Zips 2-0. The two goal scorers for Akron in that game have since left, and so far this season the team has only one player who's scored any goals: sophomore forward David Egbo. The first-year starter from Nigeria currently has three on the season, and the team itself is coming off its first win of the season last Saturday against Pittsburgh.
Washington's game against CSUN will start Friday at 7:30 p.m. on Washington Live Stream-2, and the team's contest against Akron will begin Sunday at 4:30 p.m. on Pac-12 Networks.
Reach reporter Chris Angkico at sports@dailyuw.com. Twitter: @chrisangkico