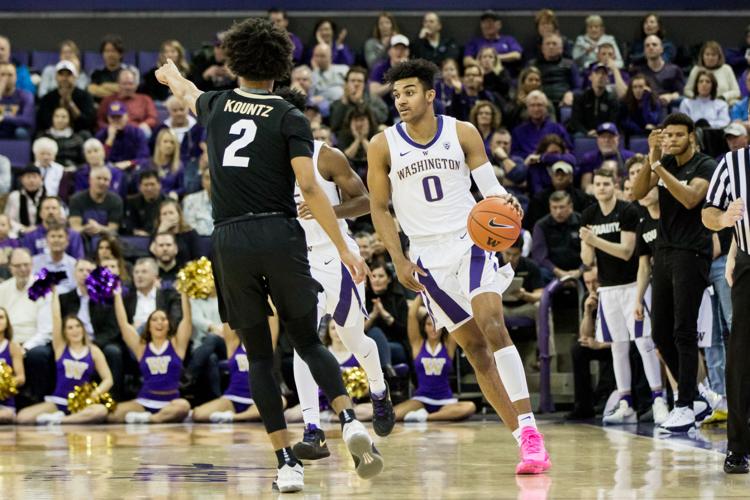 In its second game against the Italian A Series Peak Warriors in as many days, the Washington men's basketball team was able to trounce the low-tier professional team 91-46 on Friday in Rome. 
After blowing the Peak Warriors out on Thursday, the Huskies put together a similar performance in Friday's win, with a stifling defense and an offense that just featured too much speed and size for the smaller Italian lineup. 
While it's hard to gauge just how good the UW can be from summer competition against a smaller and outmatched squad, I'll give it my best shot in my notes below. 
Marcus Tsohonis playing like a lead guard
I'm not ready to say he deserves the starting point guard spot with Quade Green most likely out for the first part of the season, but Tsohonis has looked incredibly reliable in Washington's first two games in Italy. 
He's shown a good ability to create his own shot, whether that's getting to the rim or pulling up from three, and good vision as he's found open teammates for easy shots. That creativity in the half-court and confidence to make plays as a freshman led to a seven-point performance along with a slew of assists on Friday after an 11-point performance on Thursday. 
The Huskies' starting point guard on Thursday and Friday, Elijah Hardy, finished the game with two points and three rebounds after dropping out eight dimes on Thursday. 
Isaiah Stewart a man among boys 
It's unfair to the Peak Warriors, but Stewart was just too big and too much for the undersized Italian squad. Stewart consistently pushed them around and dropped in buckets with ease in the post, en route to 24 points and 16 rebounds on Friday. The physical size and sheer strength of Stewart is there, that much is clear. 
What isn't clear is if Stewart can consistently punish opposing defenses against similarly-sized opponents, which he will face in the Pac-12 and during the Huskies nonconference schedule as the regular season starts. However, if his first two games in Italy are any indication, when he is on the court, the offense is going to try and get him involved on most possessions in the post. 
Other notes, analysis 
- Nahziah Carter continues to shoulder a lot of the scoring load for the Huskies without Jaylen Nowell and David Crisp on the wing. He scored 18 points, including 12 in the first half, and was a terror in transition with a few fast break dunks. It will be interesting to see how the offense changes with five-star Jaden McDaniels in the lineup, who could function as a front court player but played a lot from the wing in high school. 
- Four-star freshman Raequan Battle has shown confidence in taking a ton of shots, contested or otherwise, from three-point land. While he hasn't shot that well so far in Italy, Battle is an intriguing option to replace sharpshooter Dominic Green, who graduated last spring. He scored seven points on Friday after hitting two threes and scoring eight on Thursday.
- Jamal Bey had a good start to the game, scoring a quick five points after a three-pointer and a strong dribble drive move to the rim, but then struggled with his shot for the rest of the first half. He finished with 13 points, and was most efficient when he was driving to the rim, a skill he didn't show often last season during his limited minutes off the bench. 
Next up
The Huskies get the day off Saturday and will play on Sunday at 10 a.m. PT in Pistoia, Italy. 
Reach Sports Editor Alec Dietz at sports@dailyuw.com. Twitter: @AlecDietz
Like what you're reading? Support high-quality student journalism by donating here.