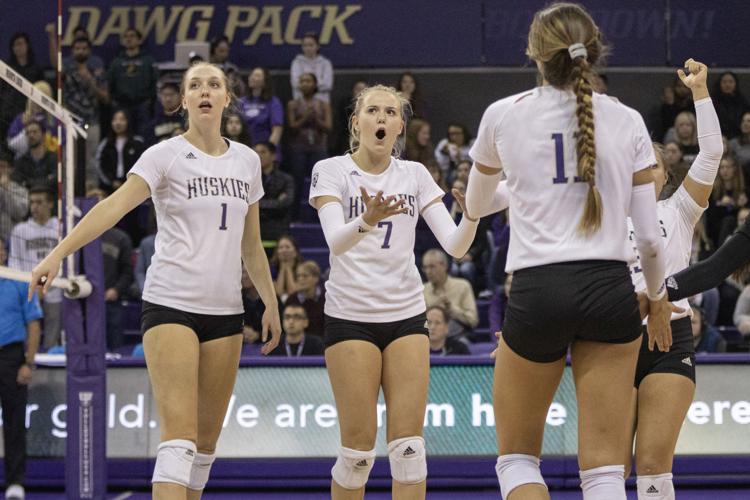 Keegan Cook calls them "December swings." Kills that come off of not-quite-perfect passes, strong attacks from chaotic out-of-system plays, and balls that get through good blocks.
The No. 12 Washington volleyball team, in a dogfight all day long with USC, racked up a good deal of December swings early, willing its way back from multiple deficits to take a 2-1 lead, and had finally started to pull away in the fourth. Up 20-15, the Huskies just needed to play the Trojans even to see out a tough home win.
Then the December swings vanished, and it all went wrong. USC ended the fourth set on a 9-1 run, sparking a five-set win that left the Dawgs wondering what had hit them.
"I haven't seen us have a serve-receive run like that all year," head coach Keegan Cook said after the match. 
With Jasmine Gross serving, USC rolled off four straight points to make it close, forcing Cook to take a timeout to try to stem the tide, up by one.
The Huskies broke the huddle and proceeded to give up another three in a row before Cook called his second timeout, this time with the UW trailing by two, 22-20.
Out of the break? Another tough time with Gross' serve, another USC point.
"When you get down at that phase, you're trying to just make one play," Cook said.
Gross finally ended the run with a serve — her eighth in a row — going into the net. When the Trojans got serve back a point later, Raquel Lazaro picked right up where Gross had left off with yet another ace — the second against libero Shayne McPherson in the run — to tie the match up.
"That stretch of receptions, four or five in a row that were either an ace or a pass way off the net, that's what I'm going to be looking at real closely to see what happened," Cook said.
By the time the huddles broke for the fifth set, Washington looked like a team that just couldn't get out of its own way. Six of USC's first seven points came on unforced errors.
"That's just unheard of," Cook said.
When the Huskies started to find a couple December swings deep into the fifth, it was already too late.
The Huskies have shown that they can win close games this season. They've shown that they can beat good teams. They've shown that they can look less than their best and still get the job done.
But as Friday night showed, they can also look lost without momentum on their side. Before tonight, it hadn't happened at Hec Ed. Now we know that even with the crowd on its side, everything can still go really wrong, really fast for Washington.
And once December actually rolls around, the Huskies can't have something like the end of Friday's fourth set happen again.
Reach Managing Editor Josh Kirshenbaum at sports@dailyuw.com. Twitter: @J_Kirshenbaum