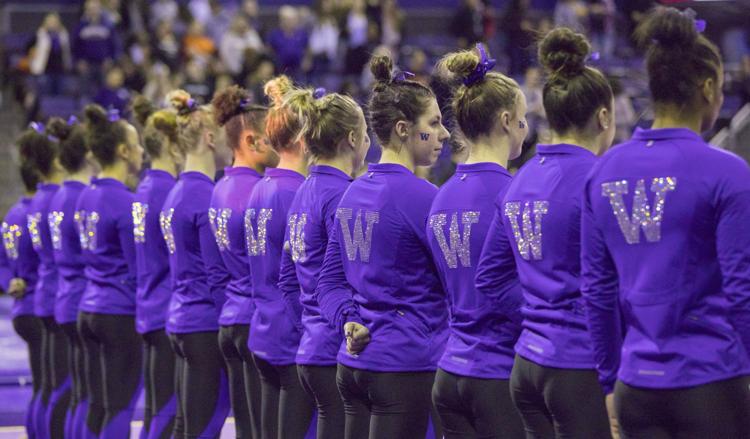 The No. 18 Washington gymnastics team's season came to an end on the first day of the NCAA's new postseason format, placing third out of the four teams in its regional competition in Corvallis, Oregon behind No. 5 Denver and No. 12 Boise State.
The Huskies got off to a strong start on the floor, scoring a 49.225. Four of Washington's five counted scores were 9.850s, and the fifth was a 9.825. At the end of the first rotation, the Huskies lead the meet by .225, a strong lead over two top-ranked teams.
Washington wasn't able to maintain that lead on vault, where it scored a 48.900. Denver pulled into first place and stayed there for the remainder of the meet. Sophomore Geneva Thompson led the Huskies on vault as usual with a 9.850. She finished in a four-way tie for the vault title.
Junior Evanni Roberson returned to Washington's bars lineup a few weeks after being sidelined by a broken toe that took her out of all four events, but it didn't provide the spark the Huskies may have hoped for. The highest score by a UW gymnast was only a 9.775, and the Dawgs finished with their lowest event score all season on the bars, a 48.725. A bad fall by junior Madison Copiak on her first skill was a big hit to the score; while Copiak's score wasn't counted towards the UW's total, she's an important part of its bars lineup and a bad fall can take an emotional toll on a team as well.
Things looked up a little on beam, with Copiak returning to close out the meet, and tying with senior Malory Rose with a 9.850. The Huskies scored a 49.050, not enough to pull them back into contention for the regional final on Saturday.
It's the earliest end to the season for the Dawgs in Elise Ray-Statz's time as head coach on Montlake.
Washington dealt with a number of injuries this season, starting off without junior Michaela Nelson, and losing Roberson toward the end of the season. Senior Malory Rose competed with a torn meniscus all season and was forced to modify her beam routine, though she did eventually score a career high after settling into the season.
Those injuries and other open spots in the lineup made the Huskies more heavy in freshmen than previous years, but every gymnast who made their NCAA debut this season saw steady improvement and will bring in more experience next year.
Reach Social Media Editor Hailey Robinson at sports@dailyuw.com. Twitter: @haileyarobin
Like what you're reading? Support high-quality student journalism by donating here.