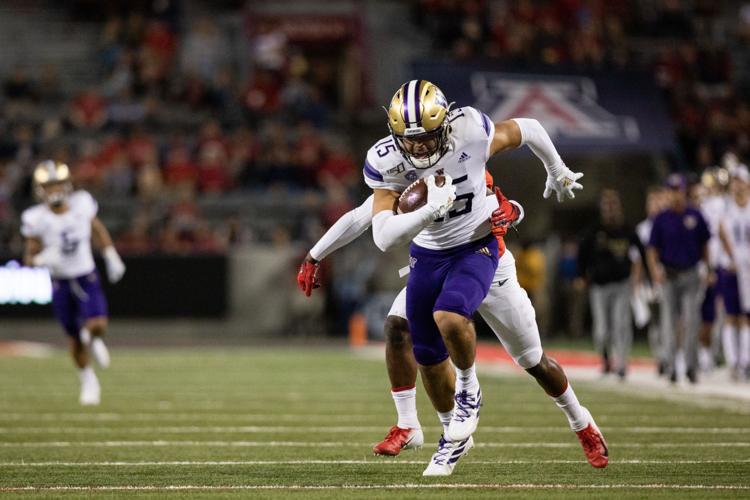 Redshirt and true freshman alike, underclassmen have been making an impact on the field for the Washington football team.
Eleven true freshmen and 18 redshirt freshmen have seen playing time this season, with some standing out not only within their classes, but within the team as a whole.
Running back Richard Newton emerged onto the scene in an instant, with his first career carry going 23 yards to the house against Eastern Washington. In the following five games, Newton piled up five more rushing touchdowns and now leads the Huskies in that department.
"He's a guy that's consistent, he's very consistent, he's gonna give you everything he's got every Saturday," running back Salvon Ahmed said. "He's like a brother to me, I'm super proud of him, I couldn't be more proud of him. He's out there being very consistent, getting those short yardages and scoring whenever we're in the red zone. He's a guy you can count on."
Newton is the team's third-leading rusher behind Ahmed and Sean McGrew and tallied 64 yards a couple weeks ago against Stanford before going down with an injury. He has not played since then and is listed as week-to-week.
True freshman Puka Nacua had a similar start to Newton, as the receiver's first career catch was hauled in for a 28-yard touchdown against Hawai'i. Nacua went on to explode for 97 receiving yards in UW's latest win against Arizona.
This year's top two leading receivers are both seniors so Nacua and other first-year guys in Marquis Spiker, Trey Lowe, and Austin Osborne could hallmark the receiver room for years to come.
"It's harder for them because they're freshmen, because they're at a new place, they got school going on, they got their coaches and trying to understand their playbook," quarterback Jacob Eason said. "But yeah they've done a great job of coming in and working hard, and even if they make a mistake they're gonna make it at full speed."
On the defensive side, one name has really stuck out this season, and that's Cameron Williams. A recently great defensive backroom may have its next star in Williams, he's already grabbed a team-high three interceptions, including two in a ranked matchup against USC.
The newest freshman class contains 18 defenders, with many already seeing playing time and showing improvement in practice.
"Laiatu Latu, he got hurt and he would've been playing more if he hadn't gotten hurt, he's coming along really well," co-defensive coordinator Pete Kwiatkowski said. "Trent McDuffie is a guy that every week's getting better, and is smart, and Asa Turner every week has been getting better and better and better."
Turner is one of four Huskies to record a pick this season, and has also wrangled five tackles in his time on the field. Fellow defensive back McDuffie has contribute 22 total tackles and a fumble recovery for the Dawgs.
Time will tell how these Dawgs will fare in the purple and gold but the future continues to look bright for Washington.
Reach reporter Josh Eddy at sports@dailyuw.com. Twitter: @JoshTreEddy
Like what you're reading? Support high-quality student journalism bydonating here.