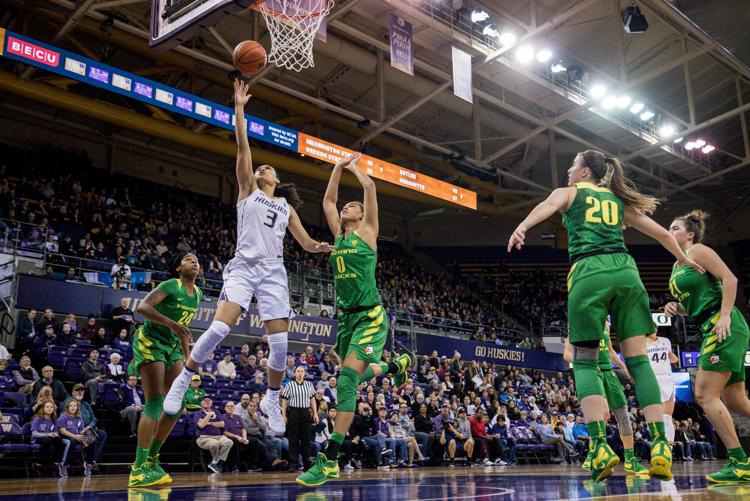 The Washington women's basketball team came out hot in a road win against Colorado and held on to win 60-46.
The win breaks a 10-game losing streak since the Huskies' previous win — also against the Buffaloes when they played them at home in early January.
It's the first road conference win for the Huskies (9-18, 2-13 Pac-12) since Jody Wynn was appointed as head coach two years ago.
"I'm so proud of them to be rewarded for their hard work and it just all came together," Wynn said in her postgame radio interview. "They played really for a bigger purpose. We played for our seniors today and we dedicate everything to them on their last road trip." 
The win was in part due to a strong defensive effort that forced turnovers and translated them into transition points. Twenty-eight of the UW's points were off of 22 CU turnovers.
Junior forward Mai-Loni Henson led the way for the Dawgs with 17 points, eight rebounds, four steals, and three assists. This game was easily her best of the season and propelled the UW in this road win.
"Mai-Loni Henson, what a game," Wynn said. "She was just unbelievable on the glass and shooting the basketball."
Junior guard Amber Melgoza also added 17 points.
The Dawgs began the game in their match-up zone defense, which held the Buffs for the most part, keeping the game close throughout the first period. The Huskies moved the ball quickly on offense, giving them open looks, and they led 21-7 going into the second quarter.
In the second quarter, Washington continued to apply aggressive pressure on defense. Colorado started to make a run, cutting the lead to single digits late in the period, but the Huskies bounced back to lead 34-24 at halftime.  
Washington kept its composure in the second half, withstanding another Colorado run in the third quarter, and rebounded well in the fourth quarter. The Huskies pulled down nine offensive rebounds in the second half, which allowed them to get second and third chances.
"I think we came out with a lot of energy," Henson said. "We wanted to really get our defensive side of us to push us and give us energy throughout the game. We know our offense will come, we know we'll knock down shots so if we can just get it down on the defensive end then we will feel really confident."
The Huskies will wrap-up Pac-12 play next weekend at home against Cal and Stanford.
Reach reporter Madison MacPhee atsports@dailyuw.com . Twitter: @madison_macphee  
Like what you're reading? Support high-quality student journalism by donating here.