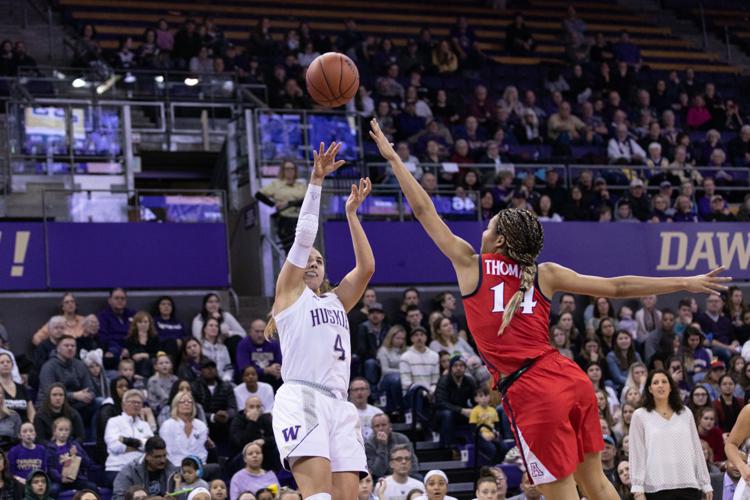 The Washington women's basketball team enters another home weekend, still looking for a win following six straight losses. 
The theme for the losing streak has been the team's inability to play a complete game. The Huskies have either led or been tied at half in five of those six games that included four ranked opponents.
"We've learned throughout the course of the Pac-12 season so far that we can play with people," head coach Jody Wynn said. "Our team has the confidence, our coaching staff has the confidence that we can compete with anybody."
In the past two games, Washington went to overtime on the road against both UCLA and USC, but was unable to gain the edge in either contest.
"We've also learned that we need to continue to do what we did in the first three quarters, or the first half at least," Wynn said. "That's moving without the ball, that's moving the ball, that's sharing the ball, that's not just settling for threes quickly in a possession, but doing what got us the lead."
A big emphasis on what needs to improve in the latter halves of games is the shot selection and quality of offensive possessions because of the impact it can have on the other end of the floor.
"When we're able to score the ball we're able to get in our presses and that slows the other team down," Wynn said. "The opponents are consistently starting their offense under the 20-second mark, and we're able to get set defensively."
Since the struggles of the team during this stretch is so obvious, it gives the coaching staff a specific area to practice and improve during the week.
"Today and tomorrow especially we're gonna scrimmage up 10 [points], at the end of practice and put 20 minutes on the clock, get some referees, whether it's coaches or whatever and finish, finish practice the way we should," Wynn said.
Washington's slate won't get any easier as it welcomes No. 6 Stanford to Hec Ed on Friday at 7 p.m. and California on Sunday at noon.
"Our conference is by far the No. 1 conference in the country, it's the most skilled conference from top to bottom, and [a] very well-coached conference as well," Wynn said. "We know we can compete, we just have to be able to finish."
Reach reporter Josh Eddy at sports@dailyuw.com. Twitter: @JoshTreEddy
Like what you're reading? Support high-quality student journalism bydonating here.