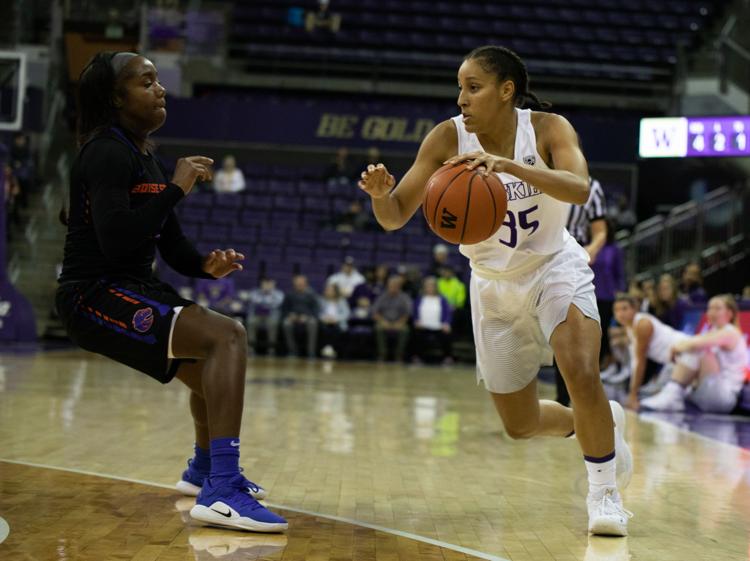 From starting the season in a boot with an ankle sprain to dropping 41 points in a single weekend, Alexis Griggsby has made a quick turnaround and adapted to a bigger role on the Washington women's basketball team.
After scoring 26 total points in 11 games to start the season, Griggsby erupted for 26 points against No. 5 Oregon and added 15 more against No. 10 Oregon State last weekend.
Both were above her previous career high for points in a game, set last season against Portland at 12.
Head coach Jody Wynn said that heading into this season, Griggsby was a clear-cut starter — her summer was that good. But an ankle sprain in early November threw things off for the sophomore, and slowly but surely she made her way to her first start of the season against the Ducks.
"She earned that start against Oregon," Wynn said. "I thought it was time to start her, and see if we could start off a game better. But nothing was just given to her, she earned it leading up to it. A lot of it had to do with the intangibles."
It wasn't easy for Griggsby, who missed Washington's first two games of the season.
"It was just hard to find that groove," Griggsby said. "It was that shot aspect, it really wasn't falling early on. When shooters can't get that shot to fall it just feels like you're in a rut, but I was able to get out of it."
Indeed she did. Most of Griggsby's points from last weekend came from behind the three point line where, against Oregon, she shot 6-for-11, and against Oregon State she shot 5-for-7.
Coming off of a preseason injury that extended into the beginning of nonconference play, Wynn knows exactly how hard that can be on a young player.
"You miss so much of the teaching, so much of the reps," Wynn said. "There's lots of practice time, and opportunity to come in and get extra shots or extra work on the court, and she missed it all. It's tough to overcome that, and then you lose confidence. It becomes a mindset that you have to push through as well. Not just physically, but mentally."
But Wynn's coaching philosophy and system have also contributed to Griggsby's career weekend. Known for playing everyone on the roster in every single game, no one would be left out of the rotation for inconsistent play, and Griggsby capitalized on her chance.
"[You] just to have the courage to keep working," Wynn said. "To know that on any given night, your number could be called. And to know too, that we don't play seven. We're not going to bury people if they aren't performing, you're going to get another opportunity."
With key conference matchups against Colorado (10-4, 0-3 Pac-12) and Utah (13-1, 2-1 Pac-12) this weekend, the Huskies will need Griggsby to step up once again as a shooter and a scoring threat to take the load off of leading scorer Amber Melgoza and their post players.
"I don't try to take 40 shots, I like shots to just come to me during games," Griggsby said. "I just like opening it up so Darcy [Rees] can go to work in the paint, and everyone doesn't crowd her, because she knows she can kick it out to any shooters. I think it'll just take time to come. It'll fall eventually."
Just three games into their conference season, it appears the Huskies have found a reliable shooter from distance. If Griggsby can continue her success from behind the line and help in other ways, it could go a long way for a team still seeking its first conference win.
"The confidence I have, our coaches have, and my teammates have for me just continues to grow," Griggsby said.
Reach Assistant Sports Editor Alec Dietz at sports@dailyuw.com. Twitter: @AlecDietz
Like what you're reading? Support high-quality student journalism by donating here.