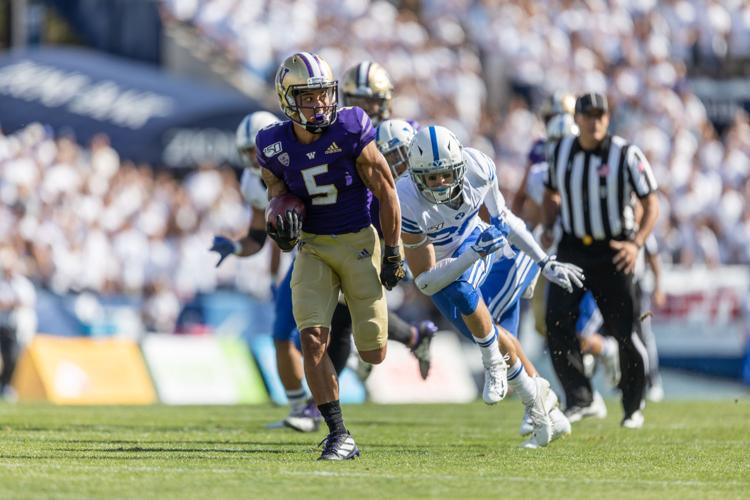 Most stadiums want to intimidate opposing teams with noise and chaos. At a venue like Husky Stadium, that's exactly the kind of energy that is brought, especially on defense. However, the No. 15 Washington football team will be taking on a Stanford team this weekend that is the complete opposite of the norm. 
"It's quiet, and they know that too and they use it to their advantage," junior Elijah Molden said of Stanford Stadium. "They call it 'The Library', so we have to bring our own energy."
Bringing their own energy to road matchups has troubled the Huskies (4-1, 1-1 Pac-12) in the past, most recently against Cal last season in a 12-10 loss. Two years ago, the UW gave up a chance at going to a Pac-12 championship when it lost to underdog Stanford 30-22 in a similar situation. 
The Huskies were holding on to a 14-10 lead at halftime before allowing 20 unanswered points in the brutal loss. 
"You have to finish, especially in an environment like that," center Nick Harris said. "If you're up a couple of touchdowns, you can't get too comfortable. Especially with a team like Stanford because they don't care what the situation is, that's just how they play football. You have to make sure your foot is on the pedal."
The Farm has also been a place where the UW's dreams have gone to die in recent memory. The last Washington win in Palo Alto was over a decade ago in 2007. Despite the Cardinal's (2-3, 1-2 Pac-12) lackluster start to the season, they still represent a large barrier in the way of a repeat berth at the Pac-12 championship game. 
"I still believe the conference champion will always go through Stanford," defensive line coach Ikaika Malloe said. "For us, it's always a dogfight with those guys. It's this mindset that they have, it's the culture that they bring, the physicality for four quarters, and if you're not up for it, that's what makes it really difficult."
To avoid another letdown in Palo Alto, the Huskies have practiced this week without any music, and from the old team room near the locker room where media interviews are held, you could scarcely hear the fake crowd noise that normally reverberates through Husky Stadium's tunnels. 
So while it isn't a traditional home field advantage, Stanford has developed a home venue strategy that works for them and makes it difficult for opposing teams to generate enough energy to win games. 
"We can't get lulled to sleep in that environment," Harris said. "We need to get in there and get the win and then get out of there."
Another week, another backup QB
For the second straight week, the Huskies will be taking on a team without its season starter at quarterback. Stanford head coach David Shaw announced on Wednesday that K.J. Costello would not play against the UW this week and will instead turn the keys to the offense to Davis Mills, who started last week against Oregon State. 
Mills threw for 245 yards and three touchdowns last week against the Beavers. 
"They're there to hand it off eight yards deep and to throw the ball in the pocket," Petersen said of Stanford's QBs. "It doesn't mean they won't do something different, but they have a system they like and they recruit to that."
The junior quarterback was the top-ranked prep pro-style QB coming out of high school in 2017 and has thrown for nearly 600 yards in four appearances this season. 
Reach Sports Editor Alec Dietz at sports@dailyuw.com. Twitter: @AlecDietz
Like what you're reading? Support high-quality student journalism by donating here.