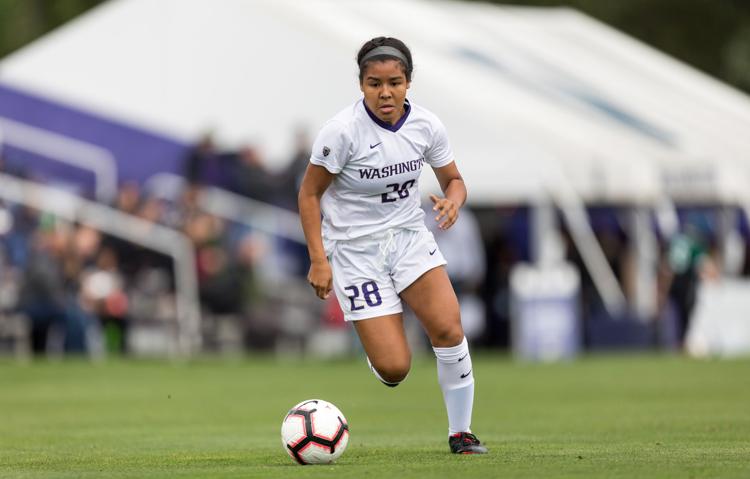 The Washington women's soccer team has been strong through its first 11 games, and a big part of that strength has been its resilience.
"We haven't won every game we've played, but I think we've bounced back from the ones we haven't really, really well, so I've liked the fight in every team," Head Coach Lesle Gallimore said.
And Gallimore is right. After each loss this season, Washington followed up with at least two wins before falling again. The biggest margin of defeat the Huskies  (7-3-1, 2-1 Pac-12) experienced this season was a 3-0 loss to No. 3 USC. Since that game, the Dawgs are in the midst of a two-game shutout streak in which they beat both Oregon schools at home.
"I do think that we're getting better every game, I just don't think there's been a lot of backsliding, and that's always pleasing," Gallimore said.
Those improvements are going to be tested with a gauntlet of top-25 opponents approaching, especially with a goal of making the postseason. Last season, Washington only won two games in conference play, which did not help its case to make the NCAA tournament. Although Gallimore stated that Washington's goal is to make the postseason, she feels it's most important to stay focused on the present.
"We talk about a 1-0 mentality, which means going 1-0 on the day," Gallimore said. "They've been very focused on the game that is right in front of us, and playing in the present."
This mentality is also beneficial for moving past tough losses, and not getting hung up on past games. This is tough, especially for a young team.
"I think that shows a lot of maturity for a young team, because the minute you start to think about too many things, there's a lot of interference that goes on, there's a lot of noise you can hear and read, and none of that matters," Gallimore said. "What matters is our next opponent."
An increase in scoring has benefited the Huskies this season, they have already scored 18 goals this season, one less than they did through the entirety of last season.
"We've been dangerous, we've been taking a lot more shots, which helps," sophomore midfielder Sianna Siemonsma said. "I also feel like our defense has been strong as well."
The UW now gets a chance to extend its win streak with a trip east. Washington faces off against Utah on Thursday Oct. 4 at 6 p.m., then matches up with No. 20 Colorado on Sunday Oct. 7 at 1 p.m.
Reach contributing writer Josh Eddy at sports@dailyuw.com Twitter: @JoshTreEddy