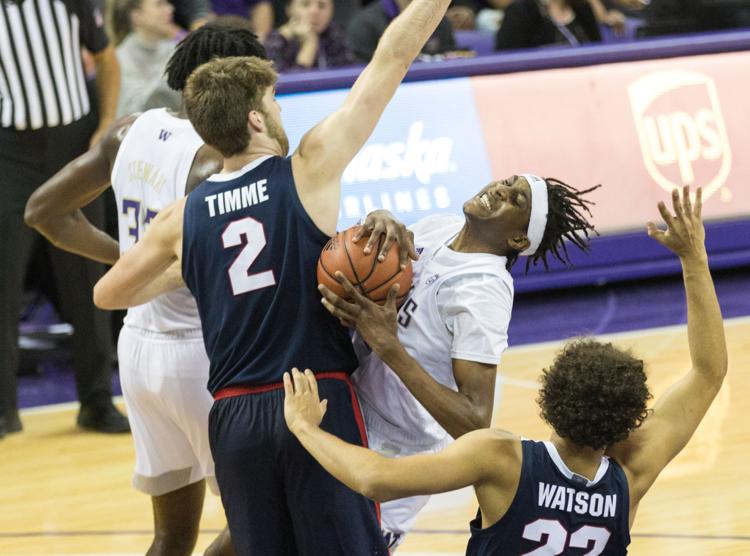 It seemed like the No. 22 Washington men's basketball team was perpetually down by four points. They didn't get blown out by No. 9 Gonzaga by any means, but they spent the entire game playing catch up. 
"Just once we got a stop, I felt like sometimes we came back down on the offensive side and maybe took a quick shot instead of holding up to get a better one," freshman Isaiah Stewart said. "It felt like we made a few of those mistakes."
The Huskies were down for 37:32 of the game, and for most of that, they were down by exactly four. The Bulldogs led by four points six times in the first half, and ten times in the second. Every time UW got close to tying it up, they got stuck back down to four points.
"Those are the types of things that just can't happen," head coach Mike Hopkins said. 
Those types of things were turnovers. While a late three-pointer from Gonzaga's Killian Tillie put the final nail in the coffin for Washington, the Huskies dug their own grave. 
The Huskies had 19 turnovers in the game, and Gonzaga scored 18 points off of them. 
"That's one of the things that prevented us from getting over the hump," Hopkins said. "Every time we got there the ball screen was working for us, they started trapping, and the turnovers off that led to easy baskets."
Turnovers happened overwhelmingly in situations where the Huskies were only down by a couple of points. Of course, the Huskies were in those situations a lot. 
Once Washington was down to Gonzaga, it didn't manage to close the gap once. 
"Sometimes we're playing too fast or sometimes we're just trying to make a highlight play," Stewart said. "I feel like if we just relax and control the game instead of letting the game speed us up, and just do what we do best, it'll be fine."
Those control problems on offense get magnified with Washington running its signature 2-3 zone, when the Huskies can't get all five players back on defense.
"What you don't want to do is throw the ball, get it stolen, and they get a layup," Hopkins said. "Those are the worst things. If you knew you couldn't get even a bad shot you could take the ball and put it on the ground. At least they'd have to play against your set defense. It's turnovers that lead to touchdowns."
There was one good thing about that repetitive four-point deficit, though. Maybe the Huskies didn't close up a deficit that they could've, but they also didn't let Gonzaga get away from them. 
The Bulldogs' biggest lead was nine points, and it was only a little more than a minute before the Huskies got that down to four again.  
"We have stretches where we're really, really, really good," junior Nahziah Carter said. "That can't always be at the end of the game. We need to play really, really, really good at every moment of the game."
Reach Engagement Editor Hailey Robinson at sports@dailyuw.com. Twitter: @haileyarobin
Like what you're reading? Support high-quality student journalism by donating here.