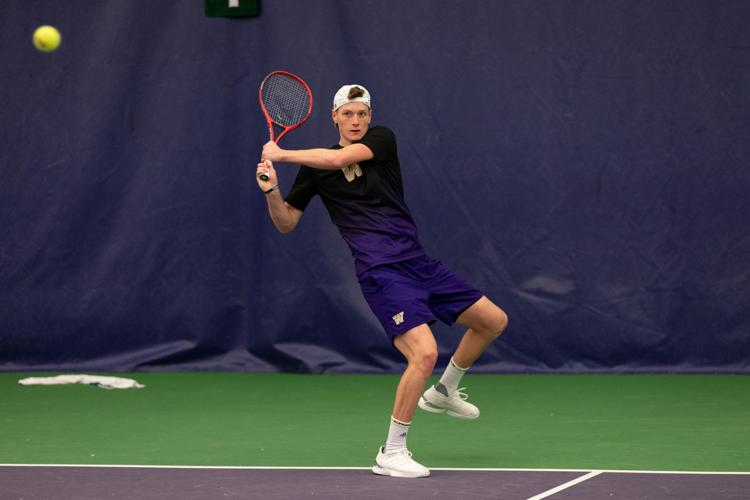 Starting a weekend of home matches, the Washington men's tennis team fell 6-1 against No. 40 Minnesota. 
"I want to not be up and down in the singles," head coach Matt Anger said. "I think we can be a little better, but more importantly I think we can stay at our higher level and sustain it a little more consistently."
Winning in a tiebreak against Minnesota's Stefan Milicevic, ranked No. 54 nationally, junior Jack Davis was the only win of the night for the Huskies (8-7, 0-2 Pac-12), ending 6-4, 7-6 (7-5). 
"We're getting tougher as a team," Davis said. "We still need to get a lot tougher obviously, but I think just bringing that attitude of toughness and getting tougher every week has been a good thing for me."
In singles, senior Liam Puttergill was the first to lose at Court 5, finishing 6-1, 6-0. Senior Thibault Cancel followed shortly, falling 6-4, 6-0 on Court 3. After the first two singles losses, Washington held at the 3-0 deficit for 20 minutes, playing tough matches on Courts 1, 2, 4, and 6. Unable to hold the Gophers (7-3), sophomore Jack Pulliam's 6-3, 6-3 loss on Court 4 decided the match. 
In doubles, freshman Brandon Wong and sophomore Ewen Lumsden were the first to lose at No. 3, ending 6-3. Senior Thibault Cancel and Jack Pulliam put up a fight at No. 2, but couldn't secure the win in a 6-4 loss. 
The match at No.1 featuring junior duo Jack Davis and Alexis Alvarez was left unfinished with the Huskies leading 6-5. 
"I want to keep progressing with the doubles," head coach Matt Anger said. "We played better but we didn't get any reward for it. I want to play better and I want to get the reward."
This weekend's match play will pick back up Sunday at 2 p.m. when Washington takes on Boise St. 
Reach reporter Sydney Nash at sports@dailyuw.com. Twitter: @sydneym_nash
Like what you're reading? Support high-quality student journalism by donating here.