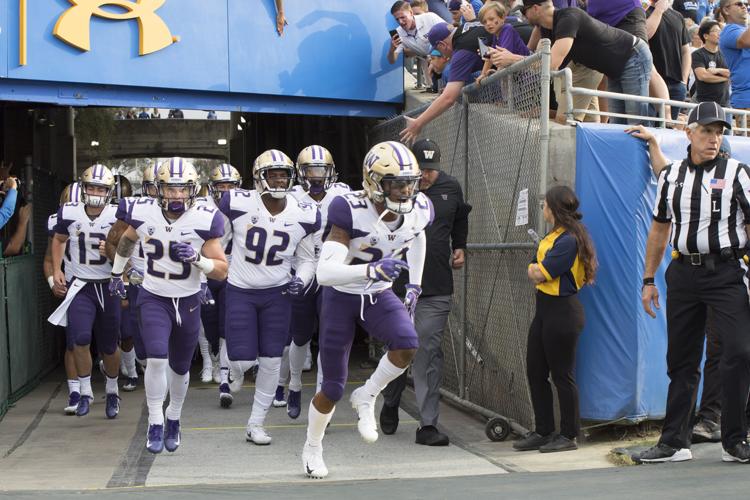 LOS ANGELES — No disrespect to UCLA and the crowds it brings in, but when the No. 9 Washington football team takes on No. 6 Ohio State in the Rose Bowl, it's pretty much going to be playing in a new stadium for the first time.
Never mind that the Huskies (11-2, 7-2 Pac-12) took down the Bruins 31-24 Oct. 8 on the same field they will play the Buckeyes (12-1, 8-1 Big Ten) come Jan. 1.
"It's definitely going to be a lot different than last time," senior defensive tackle Greg Gaines said. "There was like less than 30,000 people last time, and now there'll be 105,000, so that's going to be pretty cool for sure."
Again, no knock on UCLA. But…
"We played that game, the stadium was half-full, it was pretty quiet," senior linebacker Ben Burr-Kirven said. "You could just talk to each other on the field.
"That's not going to be the case at all when we play these guys."
Last season, 92,844 people showed up to Pasadena to watch Georgia take on Oklahoma in a College Football Playoff semifinal, the highest attendance of any bowl game that year. There's been just one Rose Bowl that attracted fewer than 90,000 fans in the past six decades.
According to the official stats, there were 51,123 fans at the Week 6 matchup for Washington. Even if that number is true, it filled the stadium up to just 56 percent capacity.
Safe to say that there's playing at the Rose Bowl, and then there's playing in the Rose Bowl.
"It's going to be the exact opposite of the last time we were there," Gaines said.
And it'll be loud. But more than that, it'll be always loud. Playing half of their games at Husky Stadium, the Huskies are used to noise — half of the time. Normally, the crowd only gets into it whenever the road team has the ball. Even the UW's Week 1 game — technically classed as a neutral site game in Atlanta — was close enough to Auburn to truly make it a road atmosphere.
On New Year's Day, though, it'll be different.
"It'll be interesting because it'll be split down the middle," Gaines said. "Everyone comes to the Rose Bowl. All of the fans are going to be there for both sides. Usually it'll either be really loud when you're on defense or really loud when you're on offense. It's going to be a little bit of both."
So while Burr-Kirven could talk to his teammates whenever he wanted in October, this time around he may not have any relative quiet at all.
"I've never really had a game where it was like that, it'll be crazy," he said. "Loud from kickoff to the final whistle. It'll be quite an environment."
It's going to be an atmosphere unlike anything else in college sports, and everyone, from the fans to the players, is going to get a moment to soak it all in before the game starts. Even if it's only a moment.
"I'll probably be looking at the stands a little bit, just to take it all in real fast," Gaines said. "Then it's time to lock in for the game. I don't really think about the crowd too much when I'm playing. They're just there."
Again, no offense meant.
Reach Sports Editor Josh Kirshenbaum at sports@dailyuw.com. Twitter: @J_Kirshenbaum
Like what you're reading? Support high-quality student journalism by donating here.