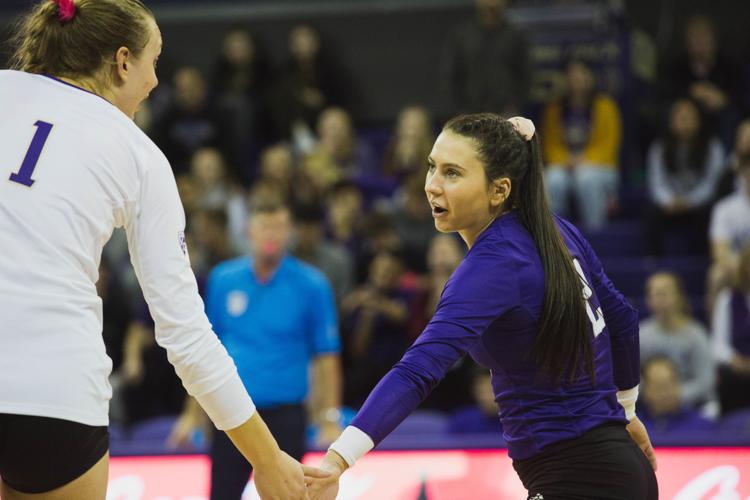 Senior libero Shayne McPherson started the season No. 9 all-time in digs for the No. 9 Washington volleyball team. By the UW's second game, she was No. 8. The next game, she passed Laurie Wetzel and Lisa McCammond to take the No. 6 spot. In the final game of Washington's nonconference schedule, she passed Tia Scambray to take No. 5. 
Now McPherson needs only 41 digs to pass Cassie Strickland for the No. 4 spot on Washington's all-time digs list. With McPherson averaging a little over 18 digs per game, and 21 in the last three games, that will likely happen either this weekend or early in the next. 
Her rising rank in the record books is indicative of how important she is to the Huskies (15-3, 6-2 Pac-12), and has been since her freshman season. 
"We're making progress every practice and every game," McPherson said.
Last weekend McPherson's performance was enough to earn her Pac-12 defensive player of the week for the first time in her career. She had 44 kills through two matches.
"Last week, defensively just a really clean match, both matches," head coach Keegan Cook said. "Really making a big impact for us."
While McPherson had 25 digs in four sets against Arizona on Sunday, most notably last weekend was her out-of-system setting against Arizona State. 
"Setting for a libero, it's not the first thing on their list of things to do," Cook said. "But Shayne is now at a point where every aspect of her game is really important, and setting is one that she's really gotten passionate about."
As the anchor of Washington's defense, McPherson is an essential part of the game. She's been a part of the Washington core since her freshman season, and with so many Pac-12 teams forcing the Huskies into defensive games, her presence is more important than ever. 
"She's always been a physical player," Cook said. "She flies around the court... Really, she impacts the game in every way a libero can."
Hoffman still out
The Huskies will be missing sophomore hitter Claire Hoffman for a little while longer.
"Nursing an ab injury that we're going to be extra careful with so it doesn't linger throughout the season," Cook said. 
Hoffman is second on the team in kills per set with 3.04, and third on the team in total kills. She missed the past two games against the Arizona schools.
Up Next 
The Huskies will head to the mountain schools this weekend for their first ranked matchup in two weeks against No. 18 Utah. They'll face Utah on Friday at 6 p.m. PT on Pac-12 Networks. On Sunday they will play Colorado at noon, a game which will be livestreamed by the Buffaloes.  
Reach Engagement Editor Hailey Robinson at sports@dailyuw.com. Twitter: @haileyarobin
Like what you're reading? Support high-quality student journalism by donating here.