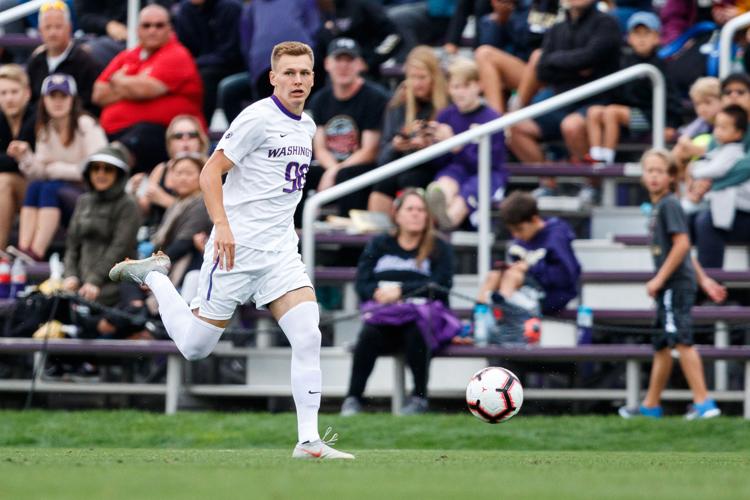 It's been a tale of two seasons for the Washington men's soccer team. Over the past month, it seemed as though the offensive rhythm and good fortune the team had in the first six games of the year had all but evaporated. The Huskies were finally able to break their losing streak Sunday, but it will be interesting to see if they can build on the win going into the first week of a two week series against Cal and No. 10 Stanford.
"In order to get that belief back, you have to get that first win, and all of a sudden it can roll," head coach Jamie Clark said last week.
Washington got that "first win" it was looking for against San Diego State behind goals from sophomore Blake Bodily and freshman midfielder Dylan Teves. Clark's rotation was different from the norm in that he gave Teves and freshman defender Charlie Ostrem their first career starts, a move designed to inject a much-needed spark into the lineup.
"They added great energy, and we had great ability coming off the bench cause we saved Blake and Kyle Coffee for a little bit later in the game," Clark said. "We won't try to change that right now, I think getting the energy of some young guys and the quality of old guys and see if we can start a new streak with that sort of philosophy."
Bodily has had a down year so far statistically following an injury that sidelined him for the first three games. He only has one goal and one assist on the year, but he is still trying his best to be a playmaker on the outside and create opportunities for himself and his offense, even if his efforts are not showing up on the stat sheet.
Teves, on the other hand, has been on the upswing since the start of the season. Before his UW career, he played two seasons with Sounders FC 2 of the United Soccer League and started seven of 10 played games this past year, one of two non-professionals on the team that amassed significant playing time. Once his career with the Dawgs began, he made himself invaluable as a second half substitute, and scored his first career goal in his third career game. Last Sunday against the Aztecs he played 62 minutes and scored the game-winning goal.
"He's kept on growing and getting better," Clark said. "He's always been a great talent, but I think it took him a few games to get used to the pace and physicality of college soccer, and as he's adapted, he's started to shine."
The team knows that it has a long way to go to get back to where it was, but players like Teves will be key to reaching the high level of play present early in the season.
"I don't think we've built momentum yet, but I think there was a big sigh of relief after the win and we said, 'We can do it, we're back,'" Clark said. "And now, this is the weekend we can start building momentum again, but momentum comes and goes quickly if you're not careful."
The UW will look to build that momentum against a Cal team that holds an identical 1-2-0 record in the conference, and later a Stanford team that is once again out in front of the conference.
These teams feature the conference's two best goal scorers: senior midfielder/forward Amir Bashti for the Cardinal and senior Shinya Kadono for the Bears, who leads the Pac-12 with 10 goals.
Regardless of the challenges the Huskies face going forward, they know now it's imperative that they keep up with and exceed the pace and quality of play in the Pac-12 if they want to get that elusive conference title back to Montlake.
"If we both do our business, then the Pac-12 title race will be back on," Clark said. "If we don't, it will be long odds at the halfway point."
Reach reporter Chris Angkico at sports@dailyuw.com. Twitter: @chrisangkico