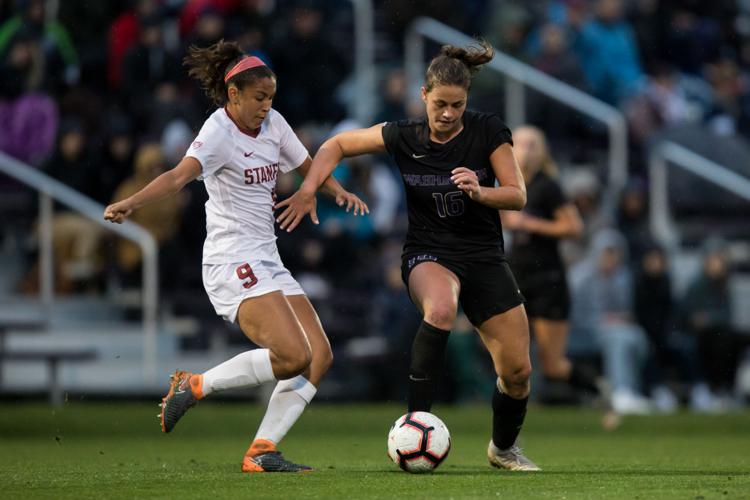 The Washington women's soccer team fought against No. 1 Stanford but was unable to score in its 2-0 loss to the top ranked team in the nation.
The UW defense showed out in the game; it only allowed eight shots to a Stanford team that has averaged over 24 shots a game. The Huskies (7-9-1, 2-7-0 Pac-12) did not allow a corner kick until the 84th minute.
"It wasn't like they were possessing in the final third, up until maybe towards the end when we were trying to push and get back into it a little bit," head coach Lesle Gallimore said.
The Dawgs surrendered their first penalty kick of the season in the 26th minute on a handling call in the box on Laura Roberts, and Catarina Macario gave the Cardinal (15-0-1, 8-0 Pac-12) a 1-0 edge.
"The penalty kick was really disappointing, because I thought it was a soft one," Gallimore said. "Laura's arm was not extended from her body, so if I go back and look at that video, and it's what I think it was, I'm gonna be really disappointed that that's what put us behind to a team that's hard to get one back on anyway."
Towards the end of the first half, Ameera Hussen went to head a ball in the Stanford box, and the keeper came out to clear it with a punch and collided with the Washington midfielder. She was able to walk off the field with some assistance but did return to the game early in the second half.
The rain was falling on a physical game that totaled 17 fouls called and a pair of yellow cards.
Washington played into the physicality of the night, and benefited. After not getting a shot off in the first 29 minutes of play, the Dawgs manufactured their first two shots off of set pieces near the top of the box.
At the end of the 90 minutes, the Huskies matched the Cardinal with eight shots, but were unable to score against a team that has only allowed seven shots for the whole season.
"I thought we played really well, we have an effort like that against many of the other teams we played the last three weeks, we're in the W column," Gallimore said.
Reach reporter Josh Eddy at sports@dailyuw.com Twitter: @JoshTreEddy