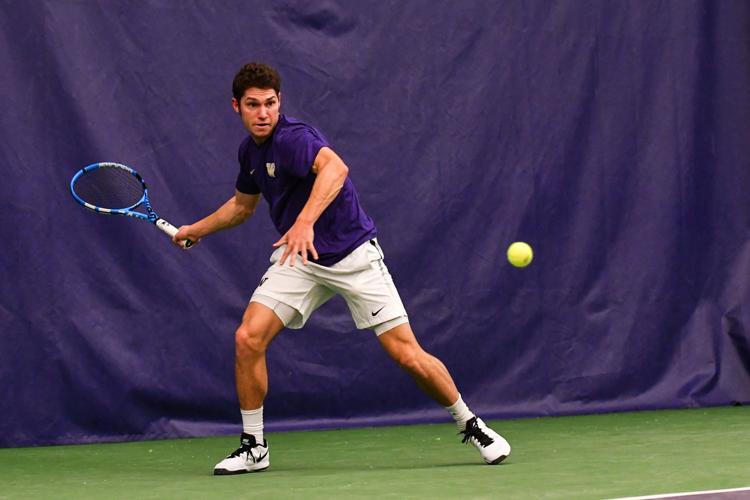 The Washington men's tennis team closed out its first road trip in style with a 5-2 win over San Diego State.
The Huskies (10-7) were pleased with how they handled the adversity of playing away from home and finishing off two tough matches.
"We are really happy to come down to San Diego and sweep these teams on the road," head coach Matt Anger said to GoHuskies.com. "It's not easy to get both of them on the road."
The Dawgs came out strong in doubles against the Aztecs, winning the first two matches 6-3. The third match was called as juniors Kawika Lam and Enzo Sommer were heading to a tiebreaker tied 6-6.
In singles, it was a similar story as the Aztecs battled early before the Huskies eventually put them away. Sommer's match was a microcosm of the match as a whole; he got out of the gate a little slow as he battled to a tight 7-5 first set victory, then settled in after that and breezed to a 6-1 second set to put Washington up 2-0 on the afternoon.
Seniors Mitch Stewart and Jake Douglas had tight matches as well, albeit in different fashions. Stewart fared a bit better in the opening set, winning 6-3, before struggling in the second as he was forced to a tiebreaker. He returned to his first set form as he swept the tiebreaker 7-0 to win his match. Douglas, on the other hand, got out to a slow start dropping the first set 4-6. He quickly bounced back to go on and win the last two sets without too much trouble 6-3, 6-2.
It looked like sophomore Amit Batta would have a quick and easy day after winning the first set 6-1, his opponent, Jan Kirchhoff, had other ideas. Kirchoff would win the tiebreaker in the second set before Batta returned the favor to win the tiebreaker in the third set to clinch the victory.
The Huskies did not have quite as much success on court 5 and 6. Freshman Jack Davis lost the closest match of the day 6-7, 7-6, 1-0, while junior Sebastian Hawken fell in straight sets, 6-4, 6-2.
The Huskies return home to face the Santa Barbara Wednesday at 4 p.m. to make up for a previously scheduled match that was moved due to the fires in California at the beginning of the season. They then face Oregon Saturday at 2 p.m. to get back to Pac-12 play.   
Reach reporter Kyle Gehler at sports@dailyuw.com. Twitter: @KyleGehler