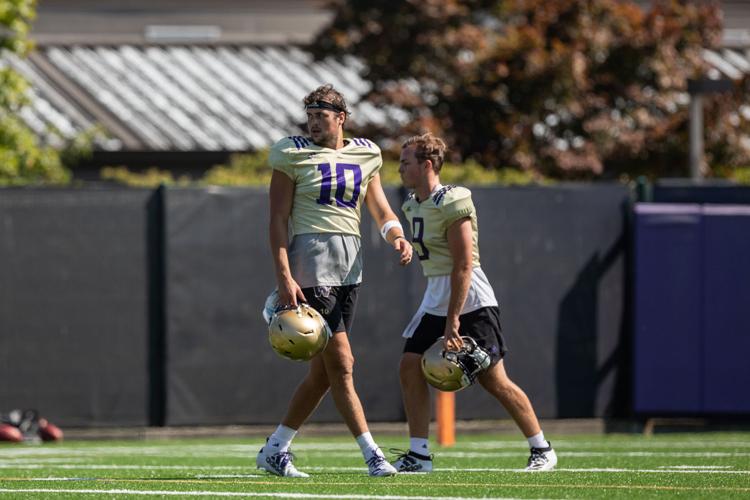 After the Washington football team's practice wrapped up Tuesday evening, offensive coordinator Bush Hamdan was asked the obvious question, and he had an announcement to make: 
He wasn't going to name a starting quarterback.
"Not yet," Hamdan laughed. "Not yet."
Well, we tried.
To absolutely nobody's surprise, the Huskies will finish the portion of training camp open to the press with Jacob Eason and Jake Haener still apparently neck-and-neck in a battle to be Washington's first new starter in four years.
"I think each guy is [growing]," Hamdan said. "It's going to be one step forward, two steps back. I think for us, we're doing everything we can to eliminate the outside noise and focus on improvement. 
"That's what I think, for each of those guys, it's going to take. One play at a time, one drive at a time, focused on their personal improvement to get them as good they can get."
By my count, Eason went 11-for-17 in 11-on-11 drills Tuesday; Haener went 10-for-17 with a touchdown. In 7-on-7 play, Eason went 4-for-4, and Haener went 2-for-4 with a pick.
Eason would have given up his first interception of training camp — to true freshman safety Cameron Williams — but the play was called back for defensive holding.
Asked if he saw the quarterback competition getting attention from other position groups, Hamdan said that "there is no elephant in the room."
And the Jakes' teammates wouldn't offer much either, even beyond the simple pitch-and-catch connections in the passing game. Center Nick Harris has had to go between snapping the ball to the 6-foot, 6-inch Eason and the 6-foot Haener each practice, but said the change doesn't affect him too much.
"They're not trying to tell me what I need to do," Harris said. "They just adjust to how I do it. It's not that big of a deal."
Other notes
- Jacob Sirmon threw the first pick of the day, on a ball that was tipped up by Ariel Ngata and caught by Dustin Bush. Dominique Hampton beat his receiver on a go route down the right sideline to intercept Dylan Morris. Kyler Gordon came down with aforementioned Haener pick in 7-on-7 drills, boxing out Ty Jones on a curl. Had Williams' not been called back, the defense would have swept the quarterback room on the day.
- During the final period of 11-on-11 play, the first team offense went into its bag of tricks for the first time in training camp. Eason handed the ball off to Sean McGrew, who flipped it to Andre Baccellia on the reverse. The play went for about 15 yards or so and got the Huskies into the red zone.
- Kicking update: Peyton Henry was a perfect 3-for-3 on the day, with makes from 33, 34, and 30 yards out. Tim Horn went 1-for-3, with one of his two misses tipped at the line of scrimmage.
Reach Managing Editor Josh Kirshenbaum at sports@dailyuw.com. Twitter: @J_Kirshenbaum