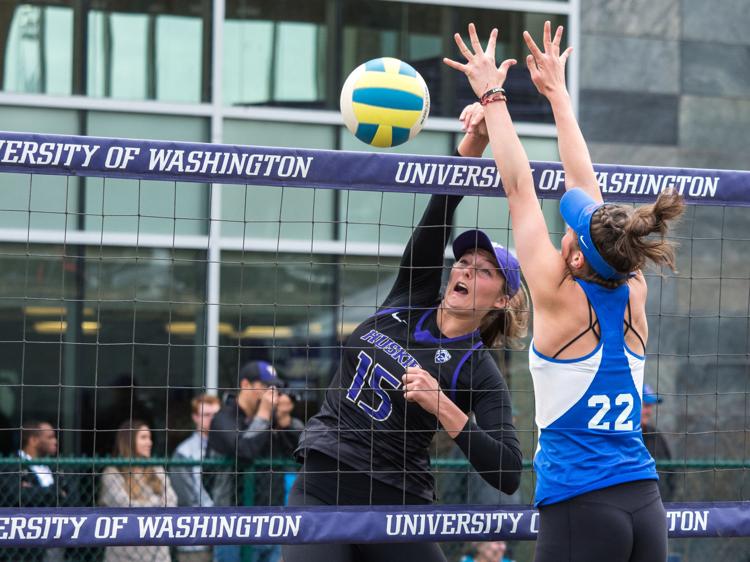 A few pairs were pushed into tight sets early, but the Washington beach volleyball team finished its weekend in Arizona with a 5-0 sweep over Colorado-Mesa.
Head coach Scott Whitaker kept the top of his lineup the same, with Kara Bajema and Shayne McPherson as the No. 1 pair and Natalie Robinson and Chloe Loreen at No. 2. Both duos were pushed to extra points in the first set, but came out with sweeps; the Huskies (2-1) won 23-21, 21-13 on Court 1, and 24-22, 21-15 on Court 2.
Behind those two, Whitaker changed his pairs up a bit. Shannon Crenshaw moved up to the No. 3 pairing to work with Claire Hoffman, forming a team of established indoor hitters in their first beach season. The two struggled early and were the only pair to drop a set, but came back to win in three, 12-21, 21-19, 15-11.
With Crenshaw moving up, Addie Picha moved down to No. 4 with Emma Calle, and the pair dominated 21-15, 21-14. On Court 5, Whitaker dropped freshman Scarlett Dahl in favor of Avie Niece, who teamed up with Callie Webber for an easy 21-13, 21-12 win.
Washington will go to Los Angeles next weekend for its first Pac-12 matchups of the season. The Dawgs will take on No. 11 Cal, No. 20 Stanford, Utah, and No. 1 UCLA in a pair of doubleheaders.
Reach Managing Editor Josh Kirshenbaum at sports@dailyuw.com. Twitter: @J_Kirshenbaum