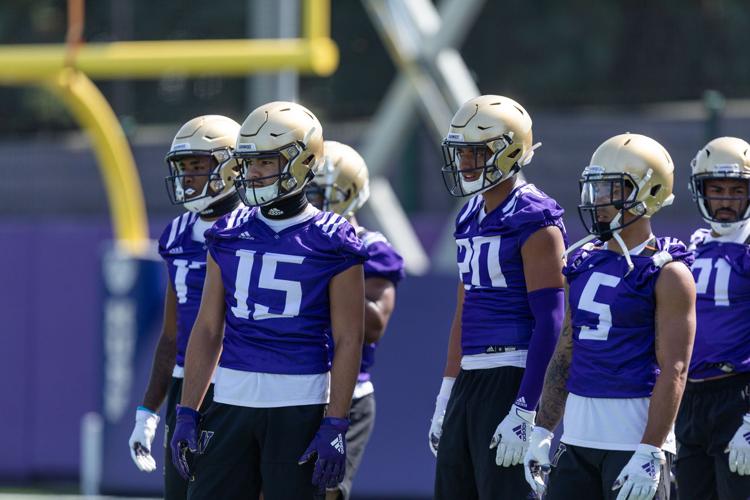 With about a week and a half to go until the Washington football team takes the field against Eastern Washington to kick off its 2019 season, we're taking a look at every UW position group to analyze their strengths, weaknesses, and who we could see making the big plays this year. Read our preview on the offensive line here. 
Key player: Andre Baccellia
Washington's top three receivers — Aaron Fuller, Ty Jones, and Andre Baccellia — are all coming back after solid-but-not-great seasons last year. All three were key to the UW offense, but toward the end of 2018, the Huskies started turning more and more to Baccellia in the short game.
Most of Baccellia's production came on the catch-and-run variety, like this in the Pac-12 Championship game: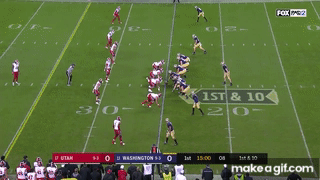 That mesh concept, using one slot receiver to clear out for another on a drag route is one the Huskies ran a lot last season, especially for Baccellia. He was one of the better catch-and-run guys the Dawgs had last year, and if he can continue to develop into a downfield threat, he could become even more key.
Biggest question mark: Can the veterans take the next step?
The group of Jones, Fuller, and Baccellia had their bright spots, especially early in the season, but the lack of a full-on star — a la Dante Pettis or John Ross — became more apparent as the year wore on. Now, the Huskies need all three to have marked improvement.
All three are very different from one another. Fuller is the Pettis-style possession man. Baccellia could be the fastest player on the UW roster. Jones is unlike any receiver Washington has had recently in terms of size and physicality. Now they just need someone to draw double coverage and open up the other guys on the field.
Breakout star: Trey Lowe
It's kind of hard to pick a breakout star for a unit returning more than enough depth. Washington had seven receivers catch passes last year, and the only one who isn't back in 2019 is Alex Cook<CQ>, who's now playing defense. 
So there may not be too many spots for a new wideout to emerge, and there's a decent-sized group vying for them. Lowe made some of the best catches of the days of training camp open to the media, and could be someone to look out for in the slot and in both the screen and downfield games. 
Other new faces could include redshirt freshmen Austin Osborne and Marquis Spiker, sophomore Terrell Bynum<CQ>, junior transfer Fatu Sua-Godinet<CQ>, and possibly even true freshman Puka Nacua<CQ>, though with so many options in the room, Washington may take the chance to give him a redshirt year.
Best-case scenario 
There were flashes of brilliance all year long last season in the passing game, and if the veteran wideouts can get better separation consistently, those flashes could become the norm. And if the three main guys can all take a step forward, and if Quinten Pounds and Chico McClatcher can sprinkle in some production, then the Huskies will be basically playing with house money when it comes to the newer faces. And if a newer addition like Lowe or Osborne can add their own dimension to the game, the UW could roll as many as seven- or eight-deep out wide. 
That is a lot of ifs, though.
Worst-case scenario 
Each of those ifs could also go the other way. The good news is that in the Huskies' run-first offense, the wideouts won't always need to shoulder a heavy load. (See: last year's Apple Cup.)
But other games like last year — like the loss to Cal and the Pac-12 Championship game — showed how much better things could have been with a good downfield attack. If things don't get better, the floor could remain the same.
Reach Managing Editor Josh Kirshenbaum at sports@dailyuw.com. Twitter: @J_Kirshenbaum
Like what you're reading? Support high-quality student journalism by donating here.