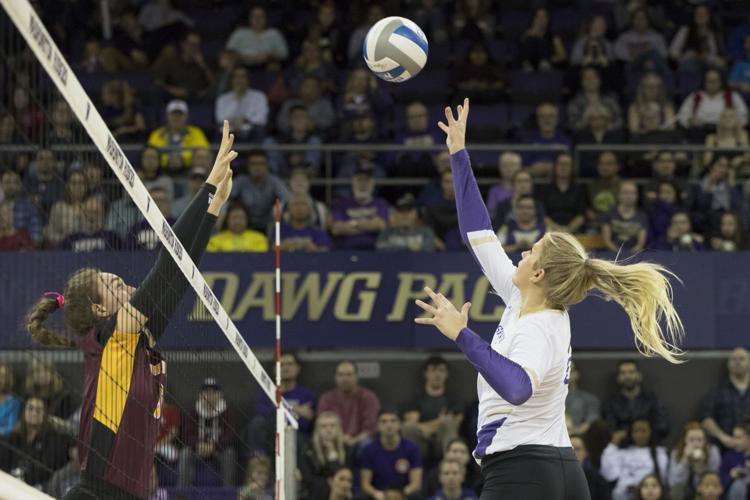 The Washington volleyball team ended its losing streak at five with a dominant four-set victory over Arizona State (25-20, 18-25, 29-27, 25-4), sophomore Maria Bogomolova's serve helping it to a 14-0 run to end the match.
It's the second time in Washington's history the Huskies have won a set 25-4, a score that's tied for the fifth-most lopsided won set in UW history. Bogomolova had three aces in that 14-0 run, the match ending with 12 Washington aces and only four service errors. Washington's serving overall was at its best of the season, Bogomolova with five total aces and freshman Claire Hoffman adding three.
In addition to seven aces in the fourth set, the Huskies also hit .522 without a single error.
"It was one good serve after another by Maria Bogomolova, and hitters who refused to hit the ball out of bounds," head coach Keegan Cook said. "That's been a big emphasis the last week, is just trying to keep our errors down."
The momentum for the fourth set was carried through from a tight third set win, 29-27. In the past six games, the Dawgs have finished six sets with only a two-point difference, but have lost four of those sets.
"The last time we were at home we were chased down by teams when we had big leads," Cook said. "I thought our block made a good adjustment against an outstanding hitter, I thought our serve was consistent the entire time. We've been on the receiving end of some great serving performance by other Pac-12 teams and tonight it was in our favor for sure. "
At one point in the third set, the Huskies faced an eight-point deficit, but an 11-3 run tied up the match at 16-16. Freshman Samantha Drechsel had three kills in that span for 13 in the night, hitting .310.
"In that third set we came out pretty flat right off the bat and just kind of chipped away at it, steady," Cook said.
The Huskies had 5.5 blocks in the third set for 12.5 in the match, their best blocking performance since Pac-12 play began. It was key in shutting down Arizona State outside hitter Alyse Ford, who had 15 kills in the first two sets and served as a good portion of ASU's offense in the third set with eight of their 16 kills, but only managed a single kill in the fourth set.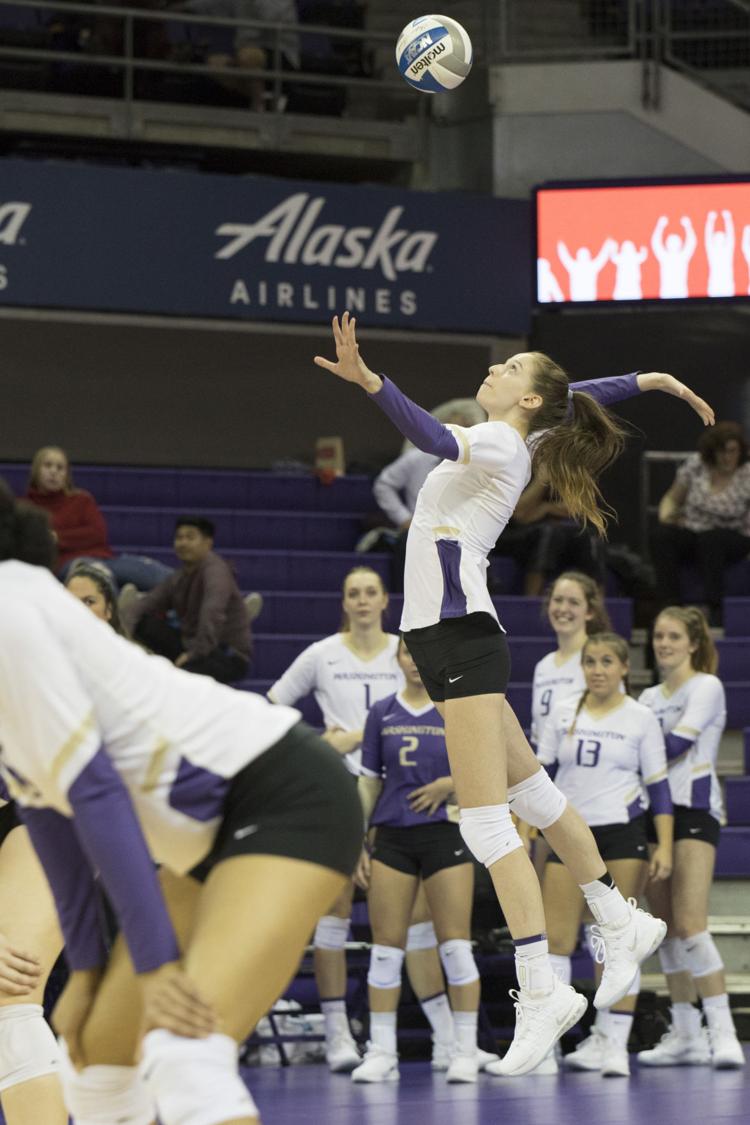 Avie Niece led the team with a hand on nine of the UW's blocks, but Washington's outside hitters, junior Kara Bajema and sophomore Samantha Drechsel, along with freshman setter Ella May Powell, added to the block as well.
"We focused this week, especially, on just seeing the set and I think our wing blockers saw the set a lot better and put me in a good position to put my hands over," Niece said.
Blocking has been an emphasis in the practice in the last few weeks as the Huskies tried to end a losing streak, but serving and minimizing hitting errors have been big focuses as well. While the second set loss looked a little bit more like the Huskies have in their past five games, in the other three sets it seemed like all of the effort put into fixing those three aspects of the game paid off against Arizona State.
"Tough stretch here of matches," Cook said. "For most of the night it was still tough. That third set was something special there, to win that set in extra points. Just really impressed with the last two weeks we've had in practice, and just very happy for the kids."
Reach Social Media Editor Hailey Robinson at sports@dailyuw.com. Twitter: @haileyarobin