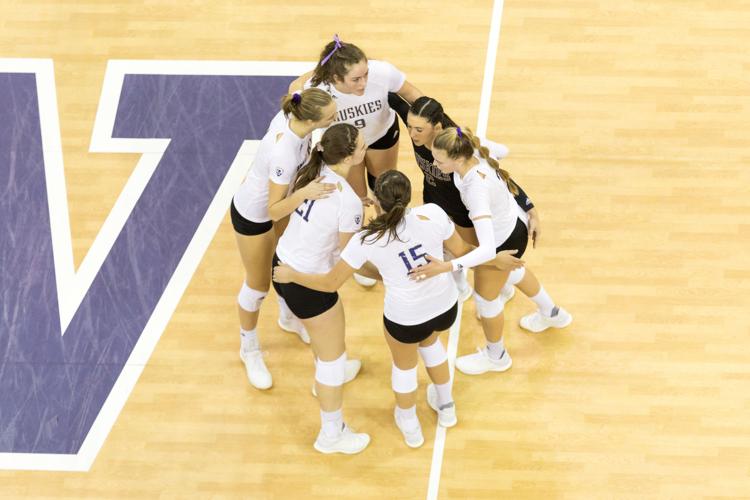 The No. 8 Washington volleyball team fell to No. 1 Baylor in four sets (20-25, 25-21, 19-25, 18-25) in the Elite Eight on Saturday, ending a stellar season for the Huskies. 
"Unfortunately, I've been here before with Washington," head coach Keegan Cook said. "I'm never prepared for when it ends because I believe in this team. This one was special, though."
Cook pointed out that this Washington team beat the Pac-12 champions, the Big Ten champions, and the SEC champions on its way to the Elite Eight, beating No. 3 Stanford in the first week of conference play, No. 4 Wisconsin twice in the nonconference season, and No. 9 Kentucky in the Sweet 16. 
"We've got a lot to be proud of," he said. 
Last year the Huskies made it to the Sweet 16 before falling to Penn State. This year, they came into the tournament knowing they were a better team, but in the first two rounds didn't show it. While they swept both matches, they knew they could play at a higher level. They'd seen it against Stanford, Wisconsin, and Utah. 
Against Baylor, Washington played at the highest level it had all season. Senior outside Kara Bajema, of course, led the charge for the Huskies, but when Bajema couldn't get past the Baylor defense, junior opposite Sam Drechsel stepped up. Drechsel played her best game of the tournament, with 15 kills, hitting .520, and adding two blocks to her total. 
Washington's strength against Baylor was really in its serving. In the first two sets, the Huskies got four aces, twice as many as the Bears had all match. 
"That's something Washington has always had a focus on, serving," Bajema said. "You see in the games that we win, the games that we're close in, it's because of service pressure and passing."
Despite some serving struggles throughout the season, the Huskies finished the season No. 1 in the Pac-12 in both total aces and aces per set, solidifying their reputation as one of the top serving teams in the country.  
Washington's senior class finished their careers with two Elite Eight appearances, along with last year's trip to the Sweet 16. 
Bajema led the Huskies, as she always does, with 20 kills against the Bears. Fourteen of those kills came in the latter two sets of the match, as she doubled her kill total from the first two sets in the third, and added eight more kills in the fourth. 
Bajema's 597 kills this season are the most ever in a single season for a Washington player, beating the previous record by 24 kills. Her 1,482 kills are sixth-most all time, despite switching from middle blocker to outside hitter halfway through her college career. 
Senior middle blocker Avie Niece, who had five kills and three blocks against Baylor, passed Leslie Tuiasosopo during the match for fifth-most blocks in a single season for Washington with 167. Senior libero Shayne McPherson finished with an even 500 digs this season — eighth-best in program history and one better than her total last year — and finishes at No. 4 on Washington's career digs list. 
"It's hard to do this thing well, it's hard to do it right," Cook said. "There's lots of shortcuts for athletes and for coaches, and when you do it right it's difficult. When you commit to growing on and off the court it's difficult. These four seniors, just tremendous. Didn't have the words for them out there but I hope they know how proud of them I am."
Reach Engagement Editor Hailey Robinson at sports@dailyuw.com. Twitter: @haileyarobin
Like what you're reading? Support high-quality student journalism by donating here.