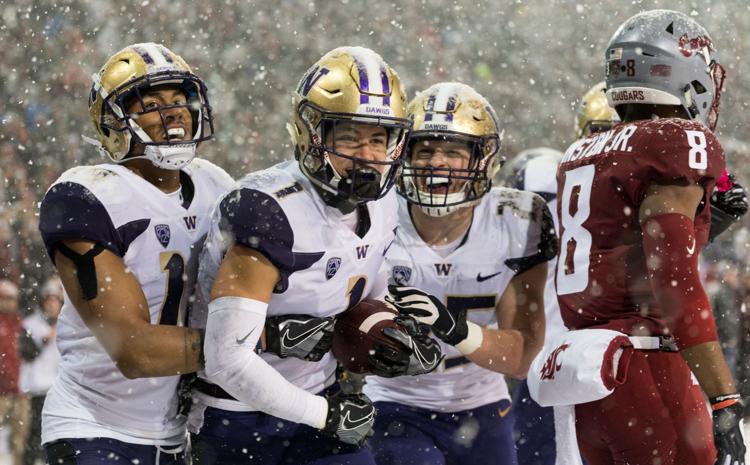 PULLMAN -- That game, in a word, was nuts.
In two words, it was completely bananas.
In three, it was a Pac-12 North title.
Jake Browning throwing his first-ever red-zone interception? Yeah, that happened. WSU giving it right back on a bad snap on fourth down? Yep. A fumble on a kickoff giving the Cougars the ball back after scoring with under a minute left in the first half? Sure. A double-pass touchdown? Why not? Possible fumbles in the end zone? Broken records? Yes and yes.
The most snow Washington has seen at a game in over a decade? Of course.
A 28-15 win over No. 8 Washington State in Pullman to hand the No. 16 Washington football team its second Pac-12 North Championship in three years?
Oh, yeah.
"It was so much fun," senior defensive back JoJo McIntosh said. "I told the guys before the game, 'This is our field. This is our house. We haven't lost here, they've lost here. We beat them here. This is our house, and we don't lose at home.'"
It's the sixth consecutive win for the Huskies (9-3, 7-2 Pac-12) over the Cougars (10-2, 7-2 Pac-12). Chris Petersen has never lost an Apple Cup, and the latest class of UW seniors will leave Montlake with ultimate bragging rights.
"It feels pretty awesome," senior linebacker Tevis Bartlett said. "I'm glad I don't have to listen to any smack talk from the other side ever. It's pretty sweet."
The days started out cold in Pullman. By the end of warm-ups it was dark. By kick-off the snow was falling, and midway through the first half it started sticking.
"I haven't played in a snow game since high school," Bartlett said. "It's just as fun as I remembered it was. I thought our guys did a great job of responding, and just kept playing the whole game. Everybody made the most of the reps they had. It was a team effort tonight for sure."
The craziness began early, with Jake Browning throwing an interception to prematurely end Washington's opening drive, but the Dawgs got off scot free as the Cougs turned it over on downs in the red zone. It wouldn't even be the only time in the first half that the defense punched back from a turnover with an immediate takeaway.
"Every time the offense turned it over, we were happy to go back on the field, because we got to hit somebody, we got to make a play, it was our turn now," McIntosh said. "And the offense made big plays too."
That offense was led by senior Myles Gaskin, who moved up the Pac-12 leaderboard with a 170-yard night on the ground. The tailback moved into third-place in Pac-12 history in career rushing yardage, and became the first player in conference history to rush for 1,000 yards in four consecutive seasons.
"Myles Gaskin, I mean, what do you say?" Petersen said. "That guy can do it all. He's the ultimate competitor, when you need something to happen, he's the guy that's going to get it done."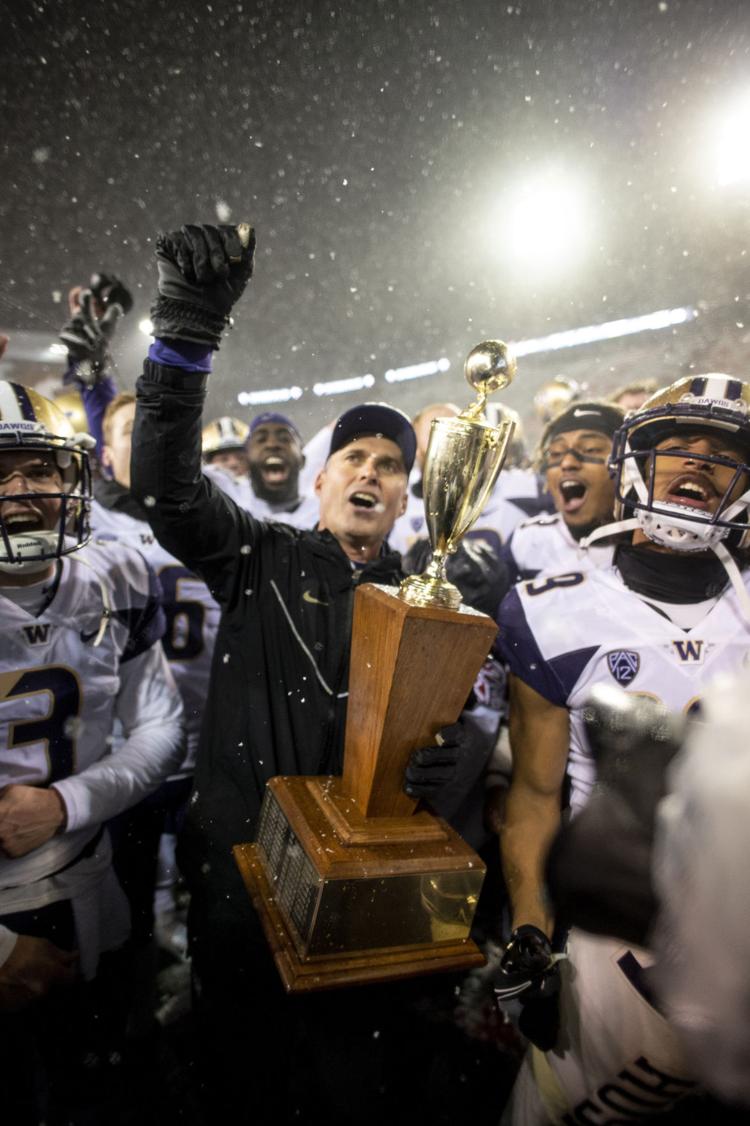 Meanwhile, Jake Browning was an efficient 11-of-14 for 207 yards. But it was wide receiver Aaron Fuller who had the only touchdown toss of the day, finding Hunter Bryant on a 22-yard double pass to put the UW up 20-9.
At the same time, the UW defense did what now we can safely say it always does against WSU: play its best game of the year. Byron Murphy came down with an interception in the second quarter, and Ben Burr-Kirven snagged one of his own in the third.
"The whole defensive staff, Coach Lake and company, they get pretty dialed in when we play Wazzu," Safety Taylor Rapp said. "This is the funnest game of the year for us and we were definitely feeling pretty confident."
And even facing one of the top offenses in the country, with the snow swirling around in a hostile environment, the Huskies just played with the swagger that they always seem to reserve for the Apple Cup.
"There's no doubt in our mind that we're going to win this game," McIntosh said. "Every year we come out, we're going to win this game; there's no question. When the Cougs come out, they're unsure, because they're playing the Dawgs."
Next up, it's south to Santa Clara, Calif., where Washington will play for a shot at the Rose Bowl. It'll probably be a little warmer there as well.
But as Washington lifted the Apple Cup Trophy in the end zone, making snow angels on the field and celebrating with the travelling faithful, nobody was thinking about anything but tonight.
"We knew how it was going to go the whole time," cornerback Jordan Miller said. "They can't mess with us."
Reach Sports Editor Josh Kirshenbaum at sports@dailyuw.com. Twitter: @J_Kirshenbaum
Like what you're reading? Support high-quality student journalism by donating here.