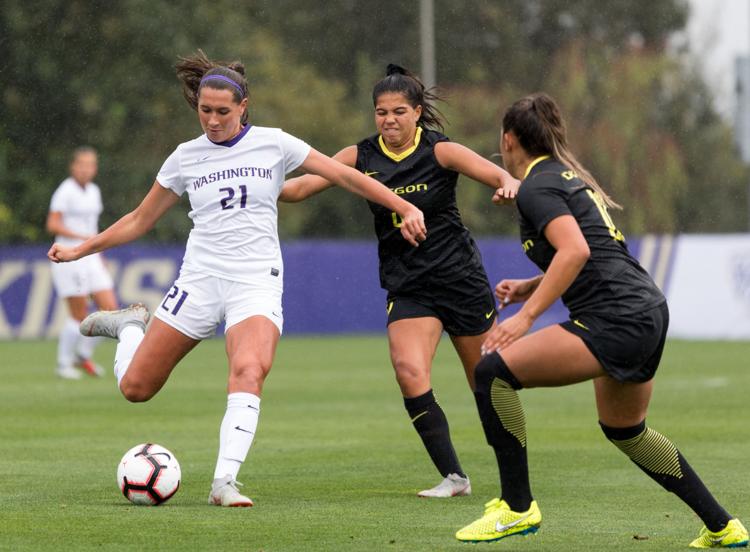 Once again, the shots were coming for Washington, but none fell in its 0-2 loss to Utah.
The Washington women's soccer team (7-4-1, 2-2 Pac-12)  had its foot on the gas pedal early, with 13 shots in the first frame and holding pressure on Utah (5-6-1, 2-2 Pac-12). The Dawgs had trouble with accuracy again, they only got four of those shots on frame. A bright spot in that category was Ameera Hussen, who put all four of her shots on target in the game.
In the second half, the Washington attack slowed down, only getting five shots up. Utah was able to control the ball more often, and kept the Dawgs at bay.
By the end of the game the Dawgs led the Utes by 14 in shot differential, which is the biggest differential the they have had in a loss this season. The 16 corner kicks for the Huskies smashed their previous season-high of 10.
A defensive error in the 13th minute gave Utah the edge early. Ruelas went to secure the ball deep in the box, but it rolled out from under her hands, right in front of the net, and Utah's Ireland Dunn was able to send it in for the 1-0 lead. The Utes only had one other shot in the first half.
Utah's first goal ended a 183 minute shutout streak for Washington .
The second goal for Utah came on a runout and cross-field shot that sailed just past the outstretched arms of Washington keeper Siena Ruelas. The junior chipped in a save to raise her season total to 37.
The loss tonight marked the third road loss for the Huskies, and they have yet to win a game outside the Pacific Northwest this season.
Washington has yet to lose back-to-back games this season, but that record will be tested on Sunday Oct. 7 when the road trip extends East for a matchup at No. 20 Colorado at 1 p.m. CU handed No. 7 WSU its first loss of the season in its 3-1 victory earlier today.
Reach contributing writer Josh Eddy at sports@dailyuw.com Twitter: @JoshTreEddy