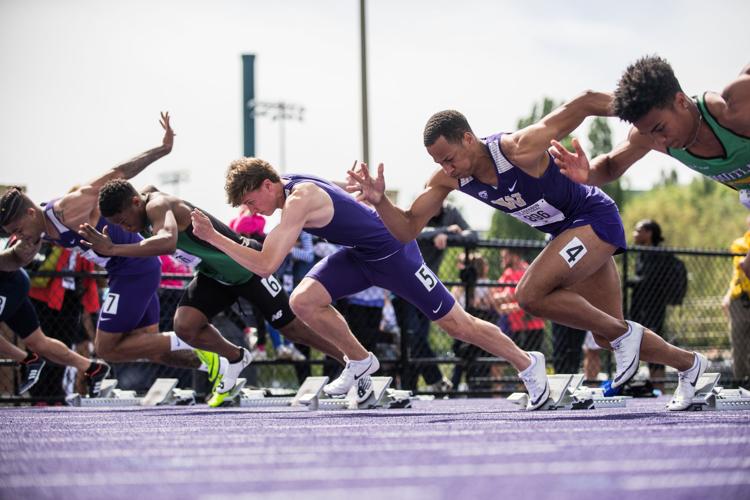 Saturday's 100th annual dual meet between the WSU and UW track and field squads was one marked by cold, wet, and windy conditions on the banks of Lake Washington.
"Huge, man. Huge," sophomore sprinter Evan Mafilas said regarding the sort of effect the weather conditions had on the meet. "We're out here all the time, and thankfully it hasn't been raining lately but today, I guess not our day. It was hard."
Still, it wasn't enough to keep Mafilas from securing first place in the 400-meter dash, as he finished just under four tenths of a second ahead of WSU's Jake Ulrich and earned five points for the Washington men in their 95-59 victory over the Cougars.
"I felt good," Mafilas said after the race. "I was a little nervous coming in just because I know I got a couple more races after this one and I had the 4x100 earlier. I felt strong though. The wind was pretty hard but I'm just happy to come out with the dub."
Mafilas posted a time of 47.56 seconds, winning the 400m dash in the UW-WSU dual for the second consecutive year. He posted a personal best in last year's race, finishing in 47.22 seconds.
Mafilas cited the week's practice plan as a key in helping him get off to a strong start.
"All week we were practicing race model stuff, really getting out hard at the beginning of the race," Mafilas said. "That was my main goal which I felt like I did."
While it was the 100th battle between the men's teams for the two schools, Mafilas downplayed whatever influence the rivalry might have had on his preparation and mindset going into the race.
"You have to take it pretty seriously everytime, no matter who you're racing against," Mafilas said. "I feel like I kind of take the same preparation everytime."
Next up for the Huskies is the Jay Hammer Invitational hosted by Saint Martin's University in Lacey, WA next Saturday.
Reach reporter Jordan Duncan at sports@dailyuw.com. Twitter: @JordanDuncan43